* 8X2 is not available for G Grade Premium (HP)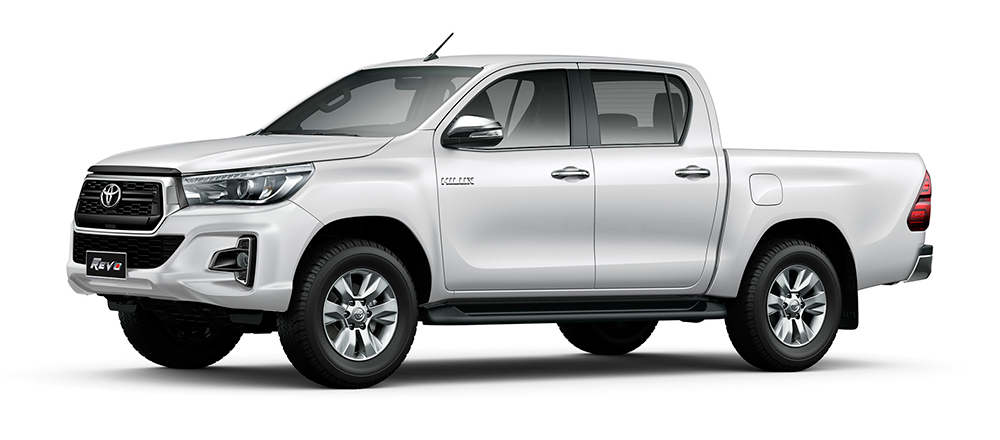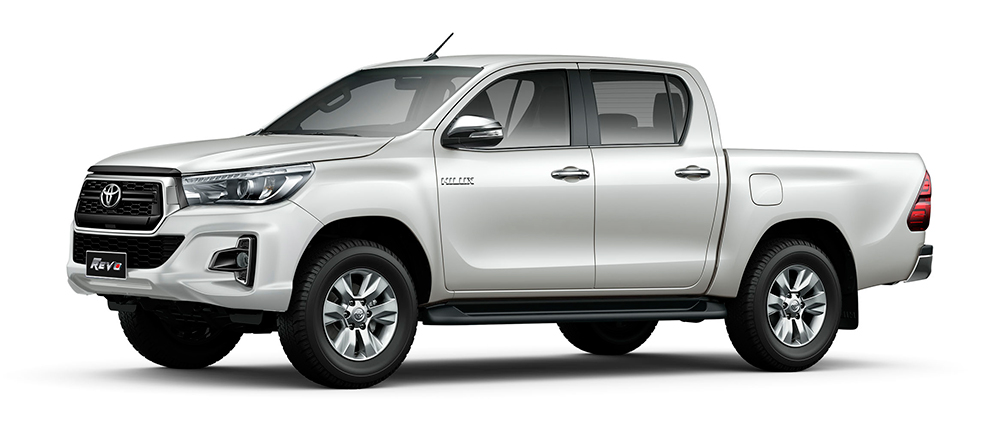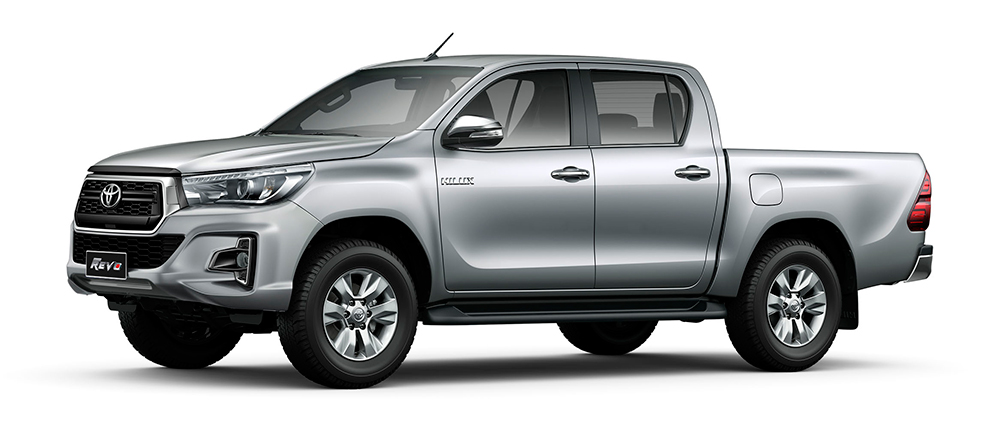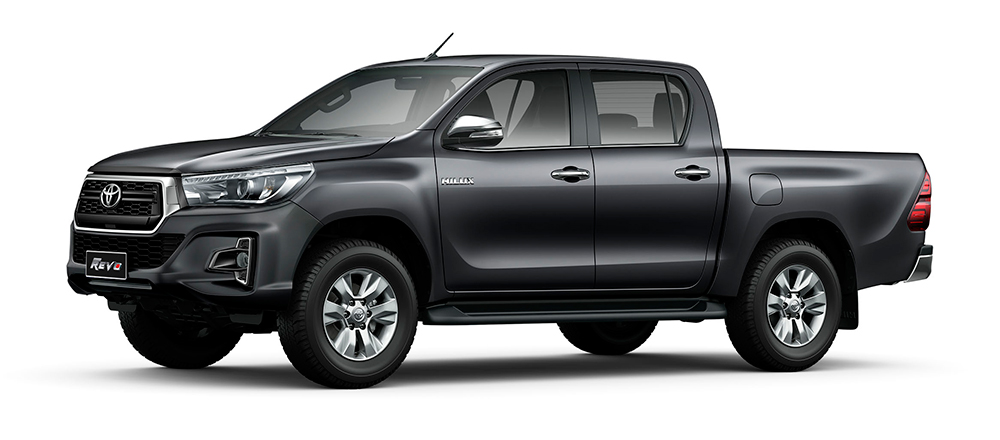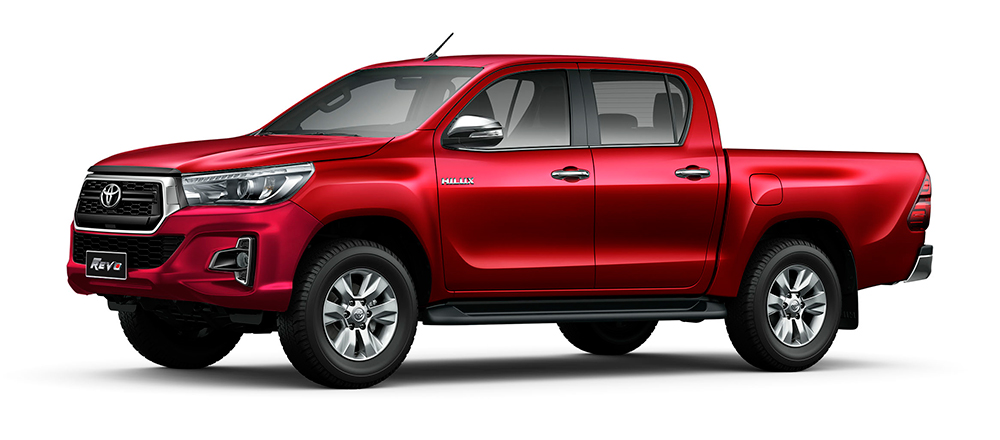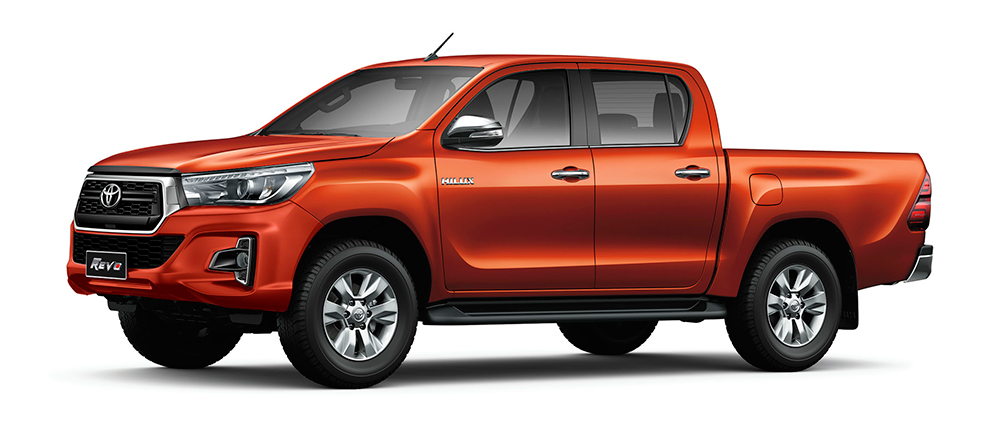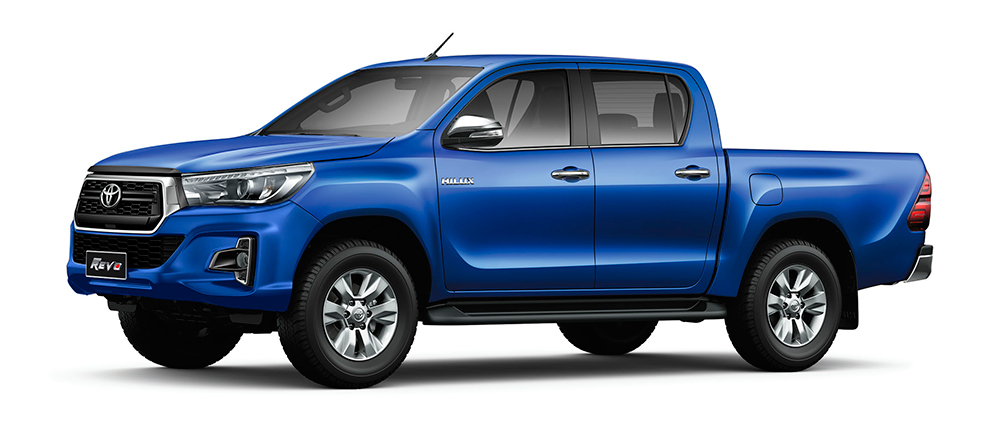 Double Cab Super White ll (040)
Double Cab White Pearl Crystal Shine (070)
Double Cab Silver Metallic (1D6)
Double Cab Gray Metallic (1G3)
Double Cab Attitude Black Mica (218)
Double Cab Crimson Spark Red Metallic (3T6)
Double Cab Orange Metallic (4R8)
Double Cab Nebula Blue Metallic (8X2)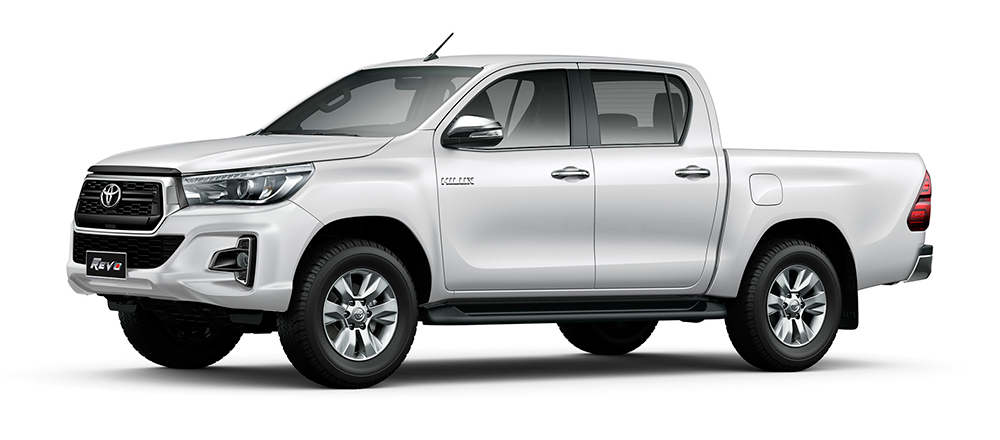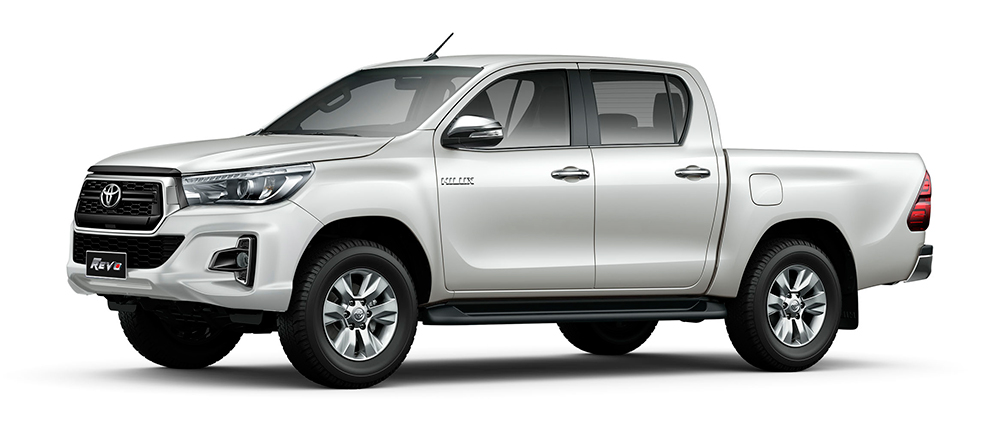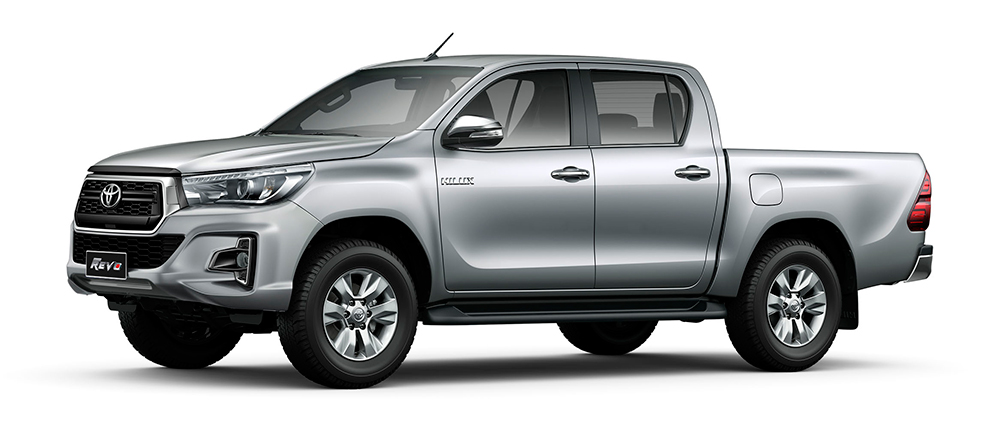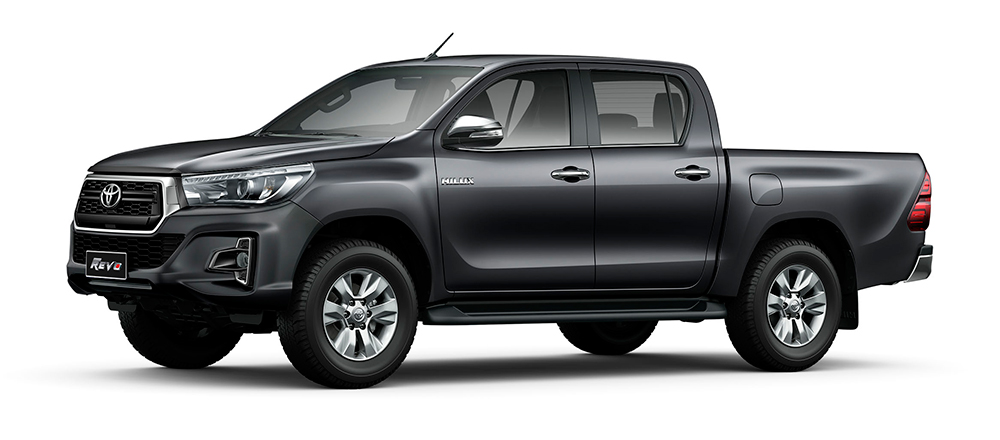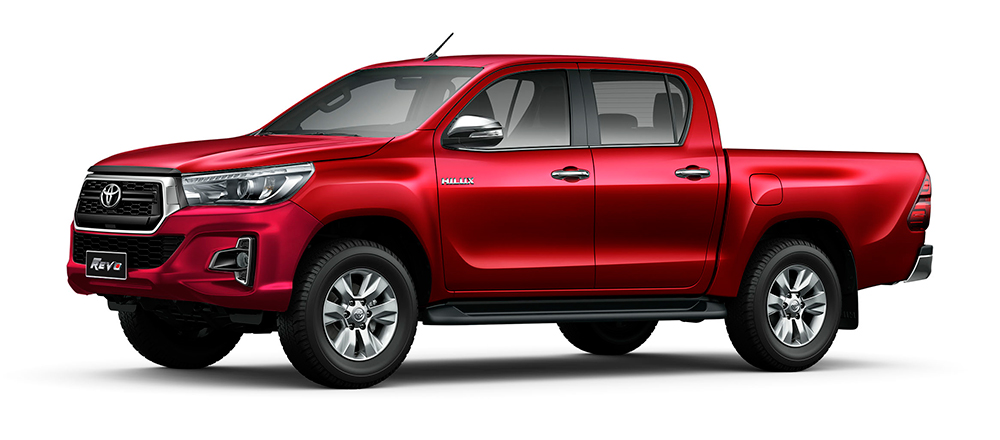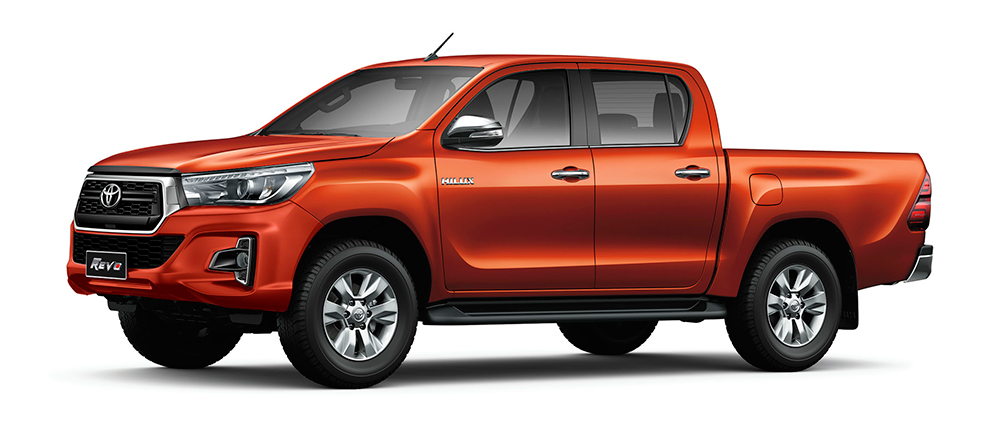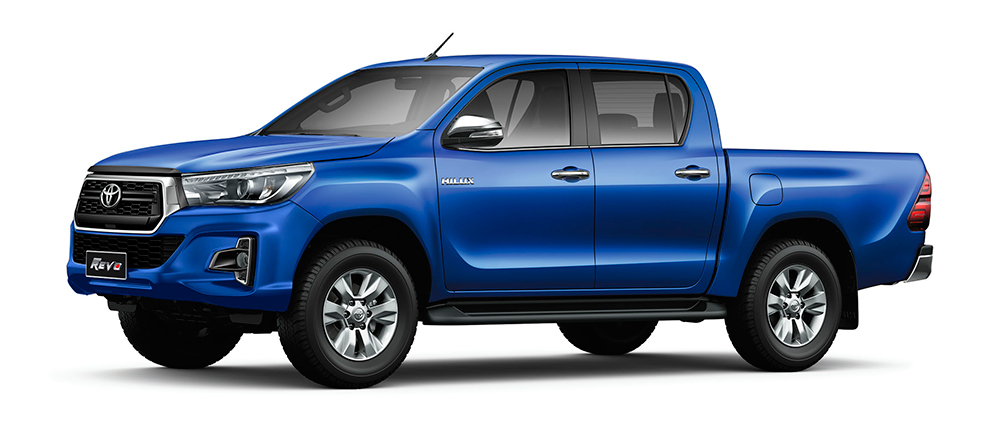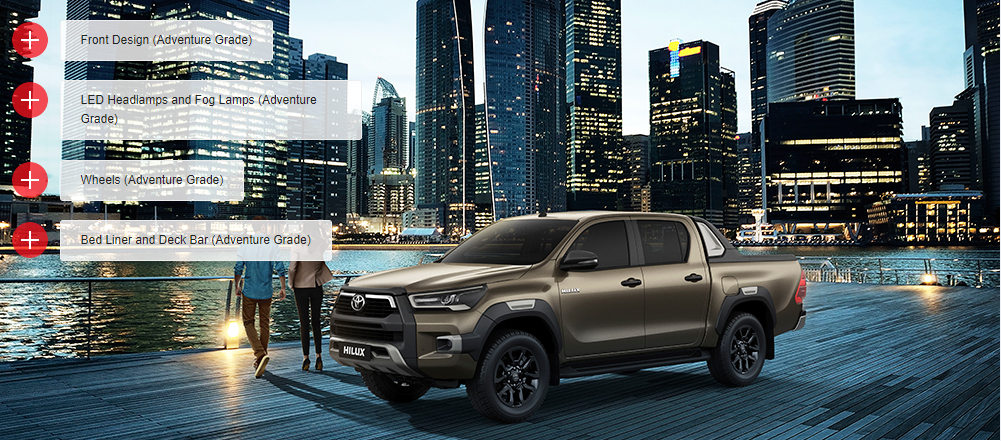 Front Design (Adventure Grade)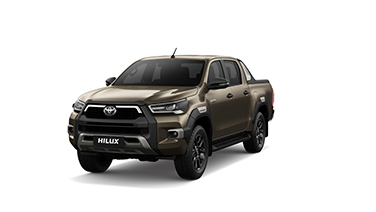 Massive grille frame in matte black and interlocking skid plate in dark tint gives off a more adventurous and sophisticated look.
LED Headlamps and Fog Lamps (Adventure Grade)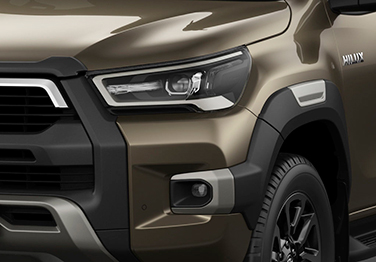 LED headlamps and LED fog lamps are combined in a tough, black-out themed front fascia.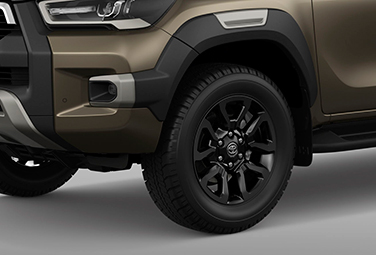 Exclusive 18 inch aluminium wheels in machined-black finish, together with the large overfenders, provide a sure-footed, go-anywhere look for the Adventure Grade.
Bed Liner and Deck Bar (Adventure Grade)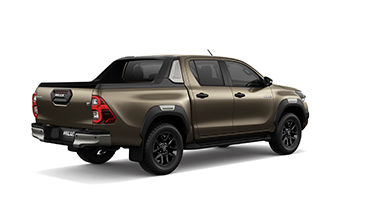 The black deck bar and bed liner help enhance the looks and functionality of the cargo bed.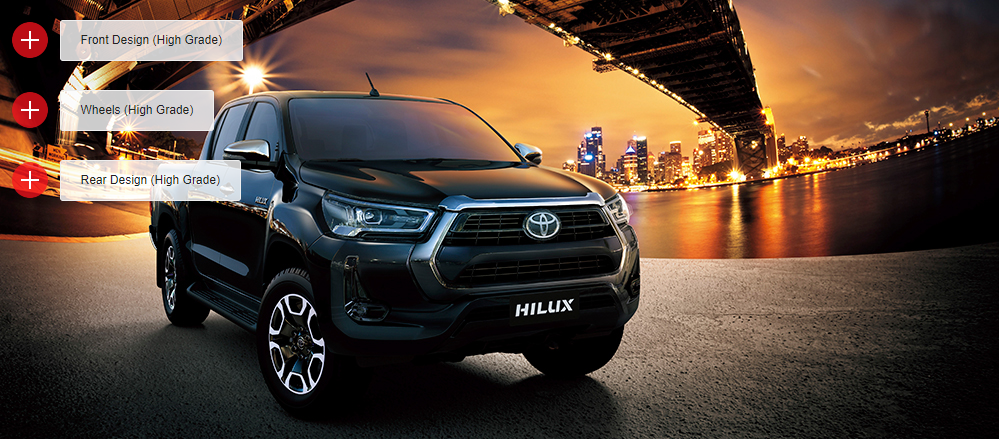 Front Design (High Grade)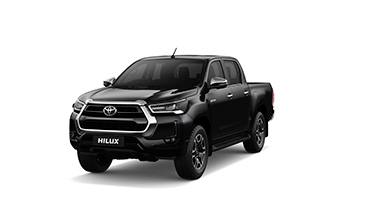 Large three-dimensional trapezoid grille folds into the engine hood and bumper guard, creating a strong and powerful look.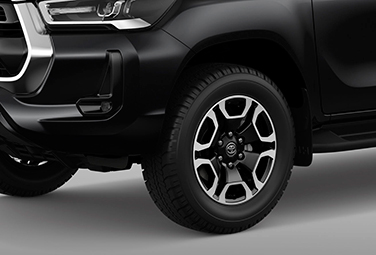 Newly designed 18 inch aluminium wheels are equipped. Deep spoke structure and iconic machine-finish graphics express "Enhanced toughness".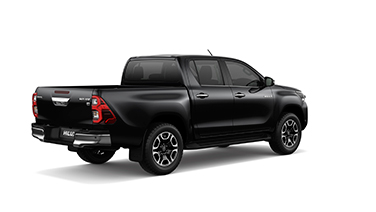 Full-LED rear combination lamps with unique tail lamp graphics enhance the advanced look.
(LED lamps used except for the turn signals)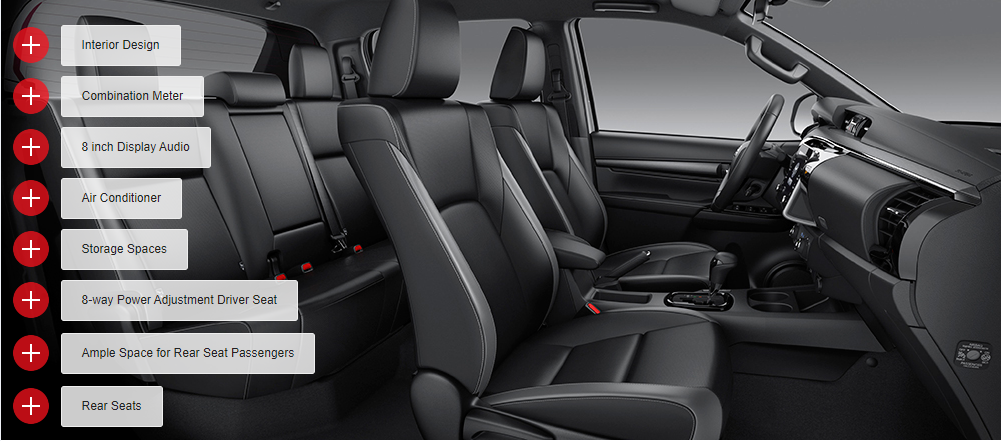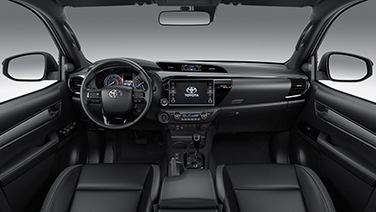 Perforated leather seats and exclusive use of black metallic and black chrome ornamentation enhance the sporty atmosphere. (Adventure Grade)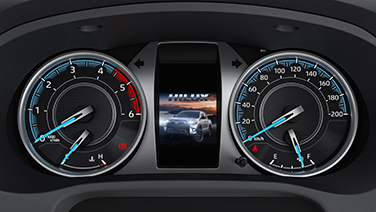 Exclusive clear blue illumination enhance visibility while giving a sporty appearance. (Adventure Grade)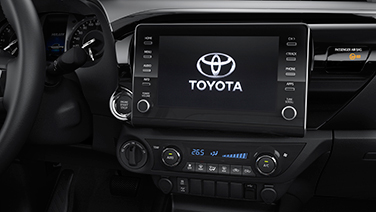 New 8 inch display audio unit is equipped.
•Enlarged screen (8 inch)
•Mechanical buttons and dials for enhanced operability
•Supports Apple CarPlayTM / Android AutoTM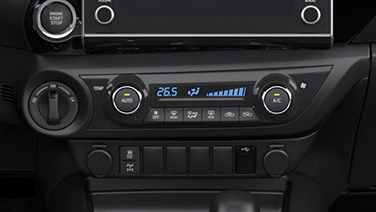 Combines powerful performance with energy-efficient operation. Independent vents in the rear seats contribute to the comfort of all occupants.
Various practical storage spaces include front and rear cup holders and bottle holders in all the doors.
1. Overhead console
2. Cup holder / Storage for small items
3. Upper box
4. Rear armrest with cup holder
5. Rear seat storage space
8-way Power Adjustment Driver Seat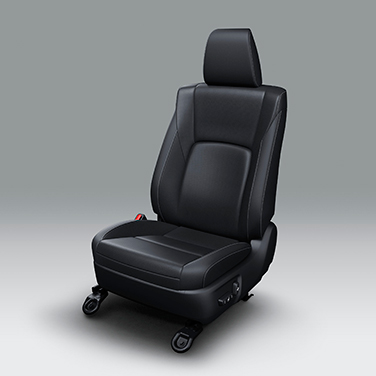 Exclusively designed double cab front seats provide a tough appearance as well as ample support.
In addition, Adventure Grade model is equipped with perforated leather seats.
Ample Space for Rear Seat Passengers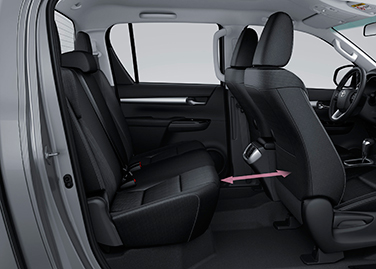 Rear seat passengers of the HILUX REVO will enjoy the expanded legroom, rear air conditioning, and rear center armrest.
The 60/40 split seat cushions tip up to accommodate a range of passenger and load combinations, and access to two storage spaces under the seats for valuables and small items. The wide center armrest has two integrated cup holders.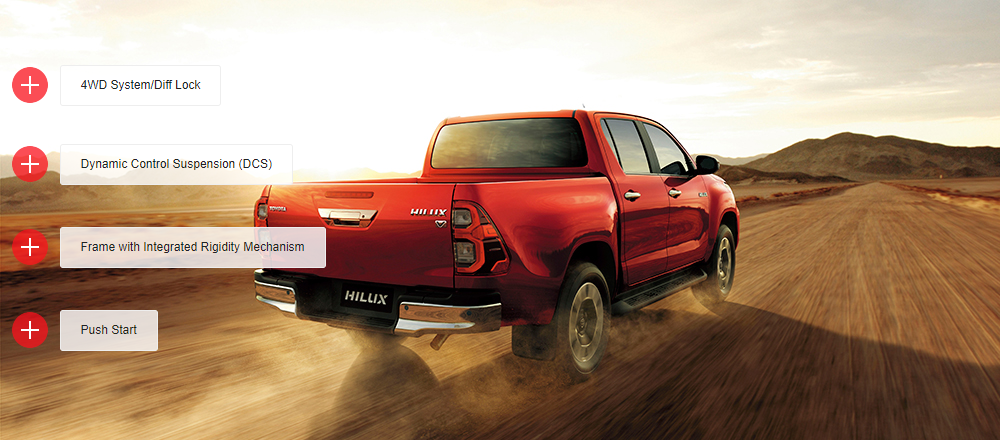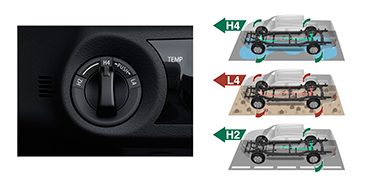 Part-time Transfer Switch
Highlighting driver-friendly operation, you can switch between 2WD and 4WD by simply turning the dial switch, even while moving.
Differential Lock
The electronically operated differential lock provides maximum traction required when driving on rough terrain.
Dynamic Control Suspension (DCS)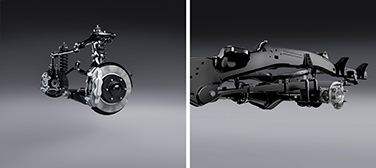 Equipped with the latest DCS, the HILUX REVO was test-driven on many types of road surfaces so it performs well both on and off road while offering superior ride comfort.
Frame with Integrated Rigidity Mechanism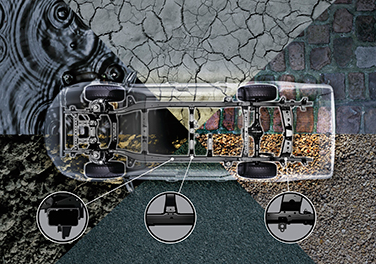 The frame is designed in order to achieve maximum frame rigidity and strength. This also results in good handling stability even at high speeds, ride comfort, noise and vibration performance and collision strength.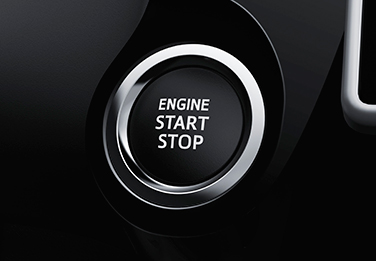 Lets you start the engine simply by pushing a button.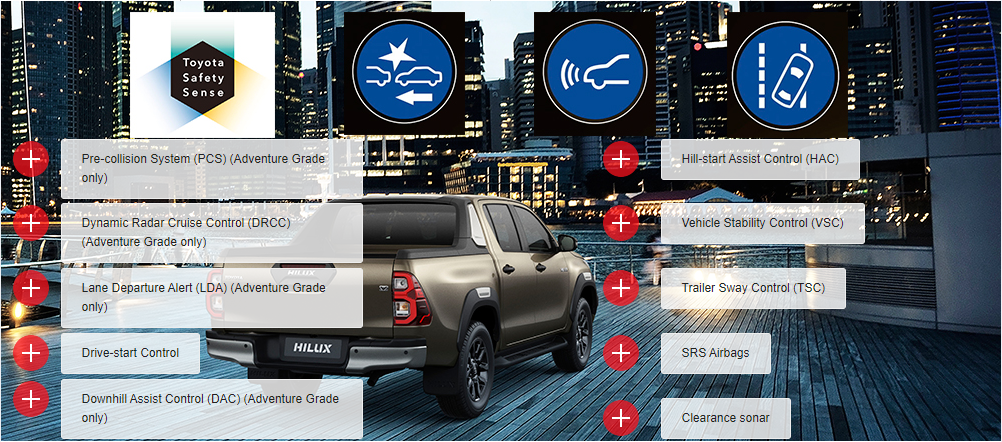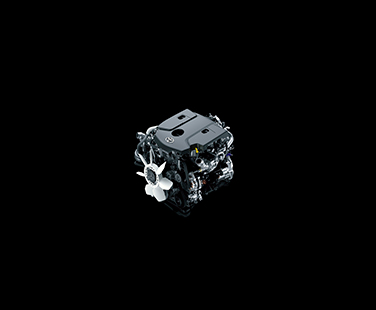 2.8-liter VN Turbo Diesel with Inter Cooler
Max. output: 150kW/3,400rpm
Max. torque: 500Nm/1,600-2,800 rpm
Transmission / Drive Mode Switch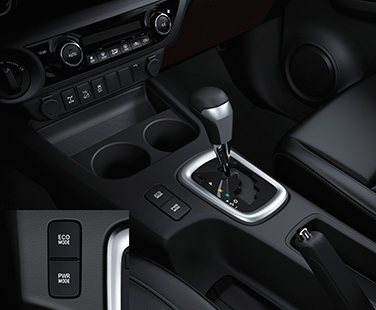 6-speed Automatic Transmission
Delivers exceptional performance with greater ride comfort and improved fuel economy in all driving conditions.
Drive Mode Switch
Allows the driver to select ECO mode for optimum economy or POWER mode for enhanced acceleration.(G Grade only)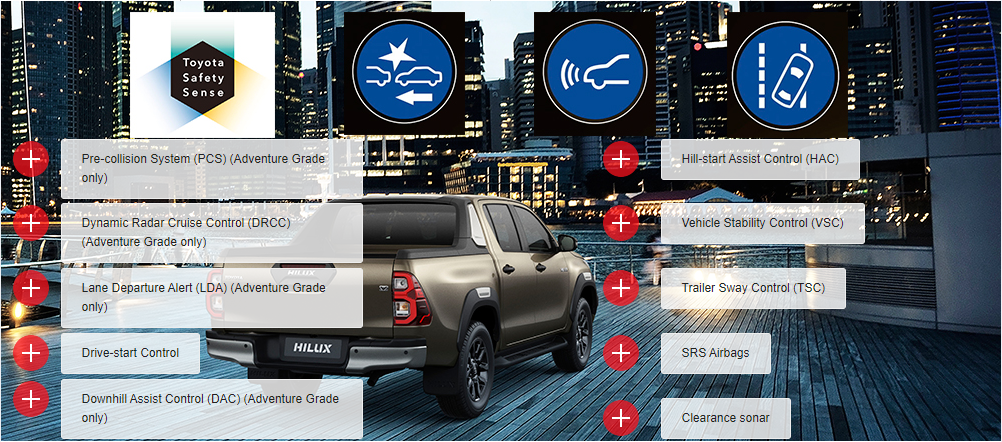 Pre-collision System (PCS) (Adventure Grade only)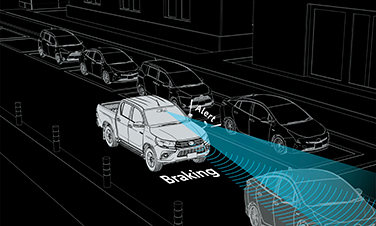 Detects vehicles (day and night) on the road ahead by using millimeter-wave radar and monocular camera sensors. When the system determines that the possibility of a frontal collision with an object is high, a warning operates to urge the driver to take evasive action and the potential brake pressure is increased to help the driver avoid a collision. If the system determines that the possibility of a frontal collision with an object is extremely high, the brakes are automatically applied to help avoid a collision or reduce the impact of a collision.
Dynamic Radar Cruise Control (DRCC) (Adventure Grade only)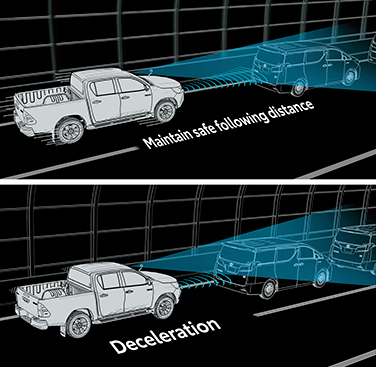 DRCC is equipped with millimeter-wave radar and monocular camera sensors to detect vehicles ahead, and assists following while maintaining a speed-dependent distance to the vehicle in front.
Lane Departure Alert (LDA) (Adventure Grade only)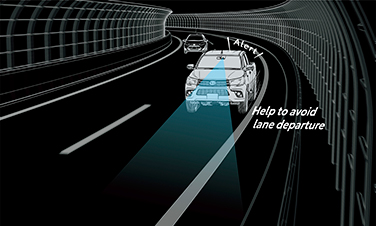 The system warns the driver with a buzzer and alert lamp when the car begins to leave its lane without turn signal activation from the driver. The system can also apply braking force to assist the driver in avoiding lane departure.
If an abnormal shift (R->D, D->R, N->R, P->D, P->R) is detected while accelerating, a warning is displayed in the meter display and engine output is reduced to limit the acceleration, helping to avoid a collision.
Downhill Assist Control (DAC) (Adventure Grade only)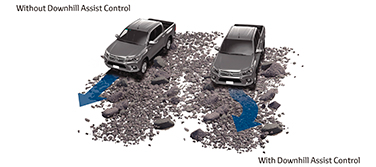 Helps to maintain low vehicle speed while driving down steep, slippery or bumpy slopes, enabling the driver to concentrate on steering operations. (Adventure Grade)
Hill-start Assist Control (HAC)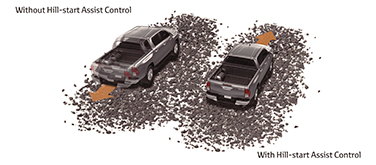 When starting on steep hills or slippery surfaces, HAC minimizes vehicle roll-back by controlling the brake pressure as the driver switches from the brake to the accelerator.
Vehicle Stability Control (VSC)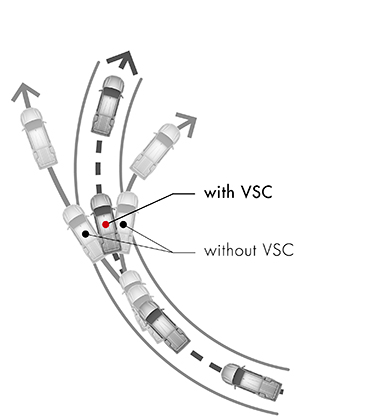 Helps ensure that the vehicle holds its direction through a corner by automatically adjusting the engine power and braking force going to each individual wheel, keeping you on track even on a sharp curve or wet surface.
Trailer Sway Control (TSC)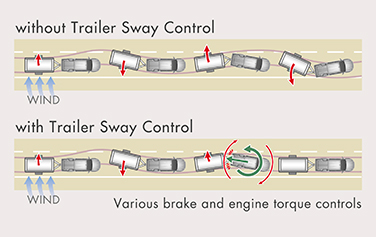 Sway often results from overloading, crosswinds or hazardous road conditions. In such conditions, the sensor of the Trailer Sway Control (TSC) automatically adjusts the braking pressure and power output to minimize trailer sway and maintain vehicle stability.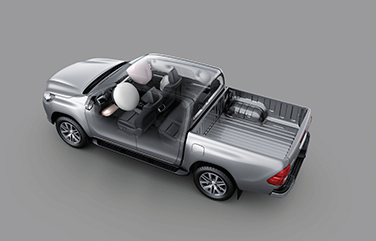 The HILUX REVO is equipped with SRS driver airbag, SRS front passenger airbag, SRS knee airbag (Driver's seat).
SRS side airbags (Front seats) and SRS curtain shield airbags (Front and rear seats) are available.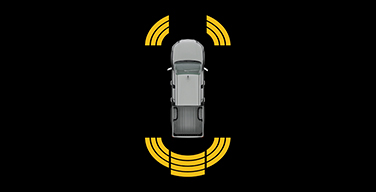 A total of 6 sonars detects stationary object near the front and rear bumpers and alert the driver to take care.