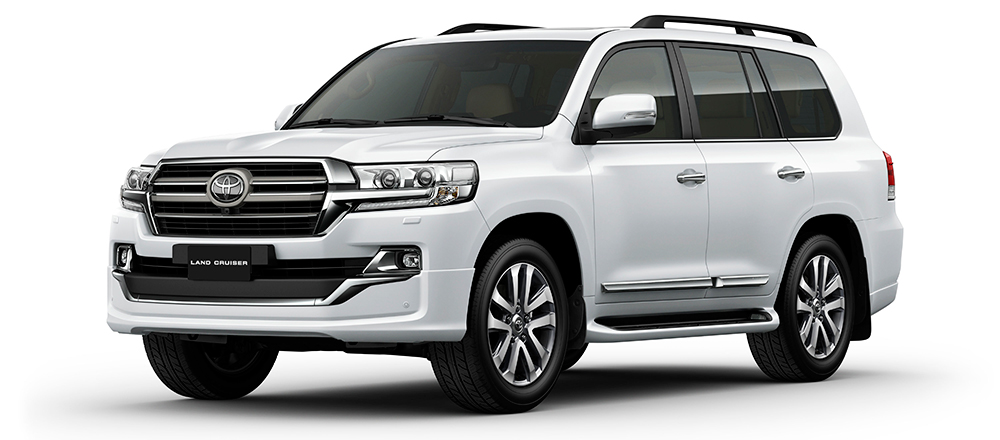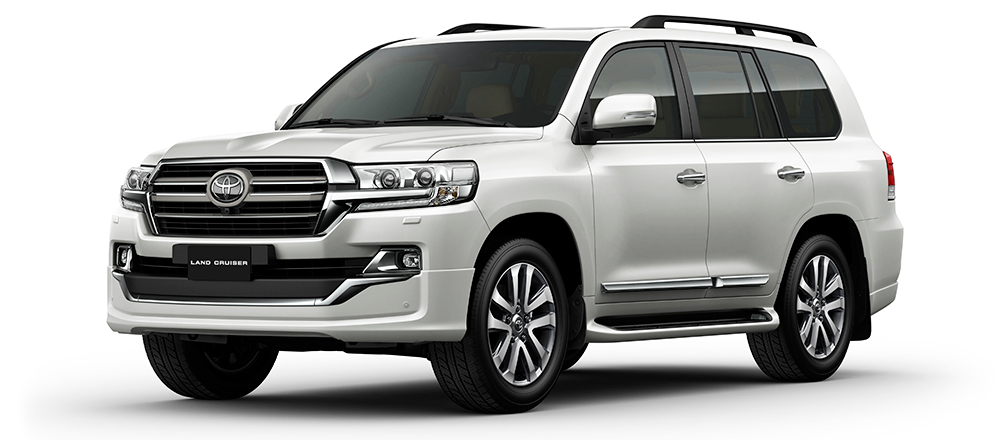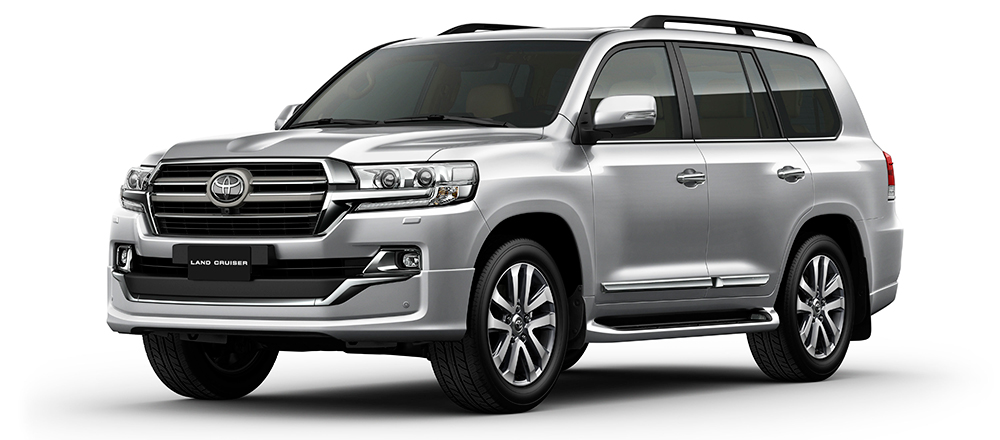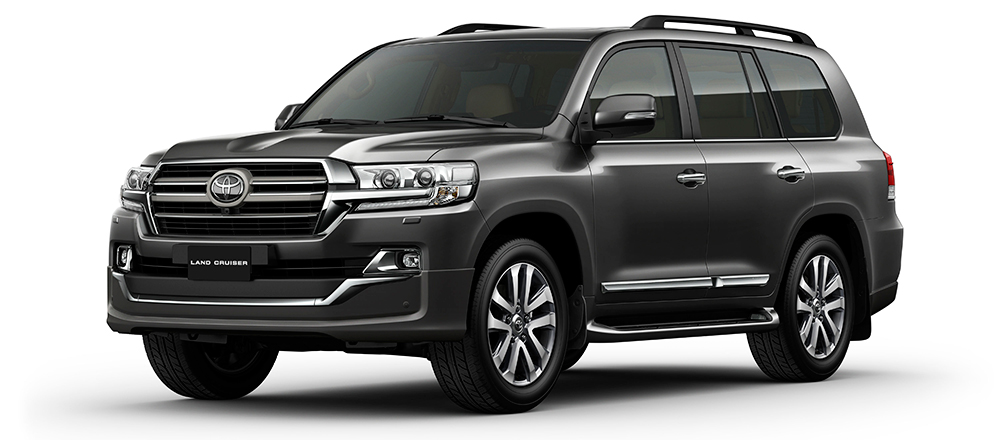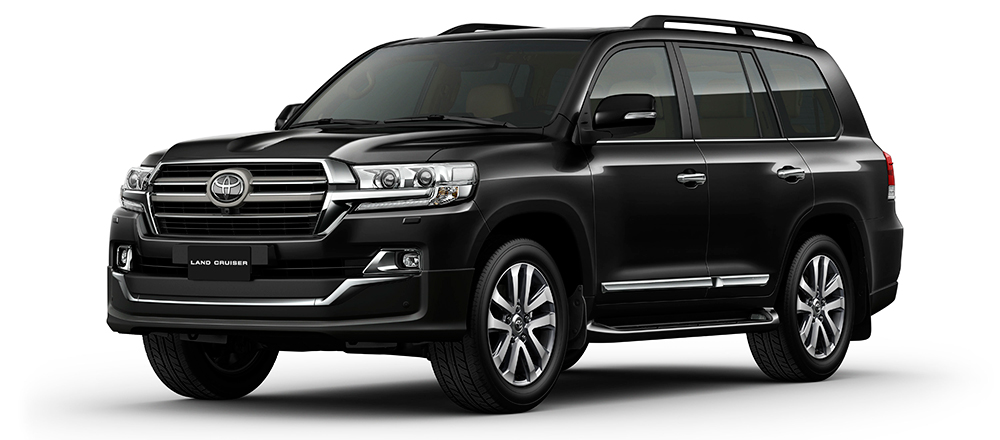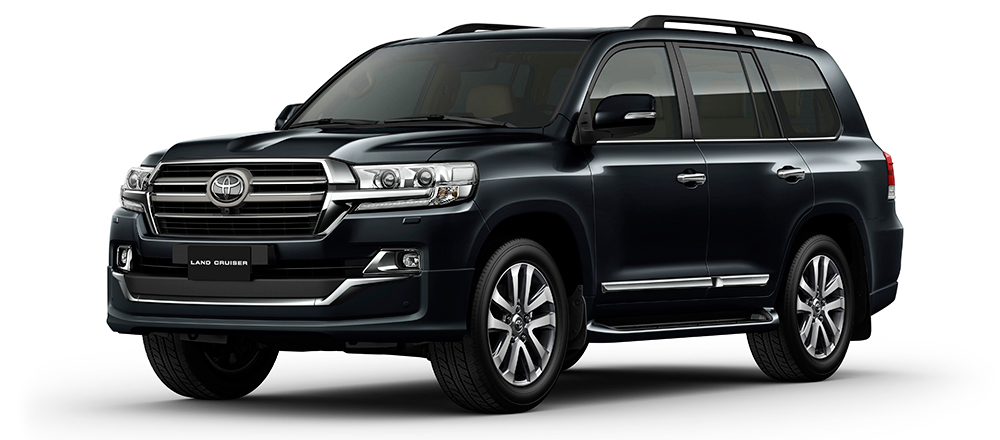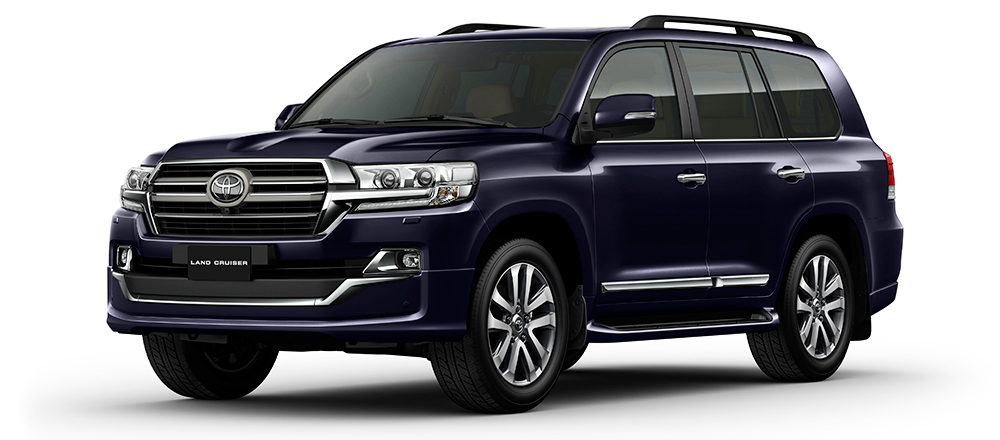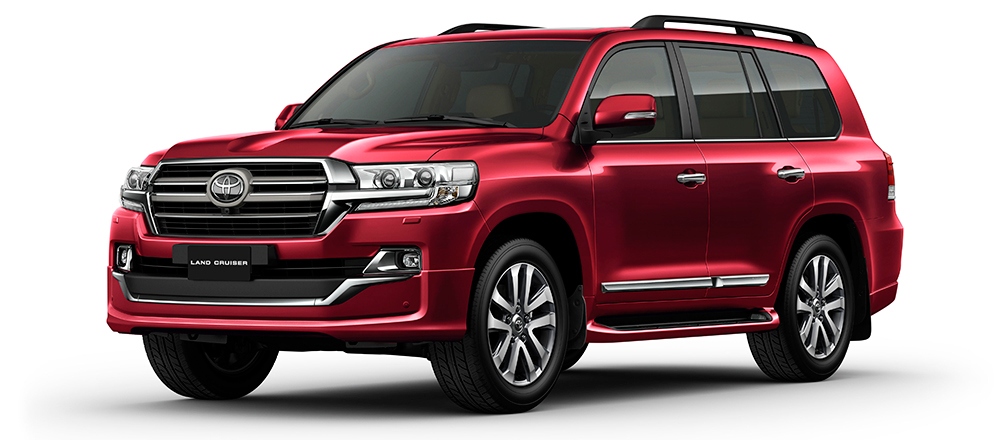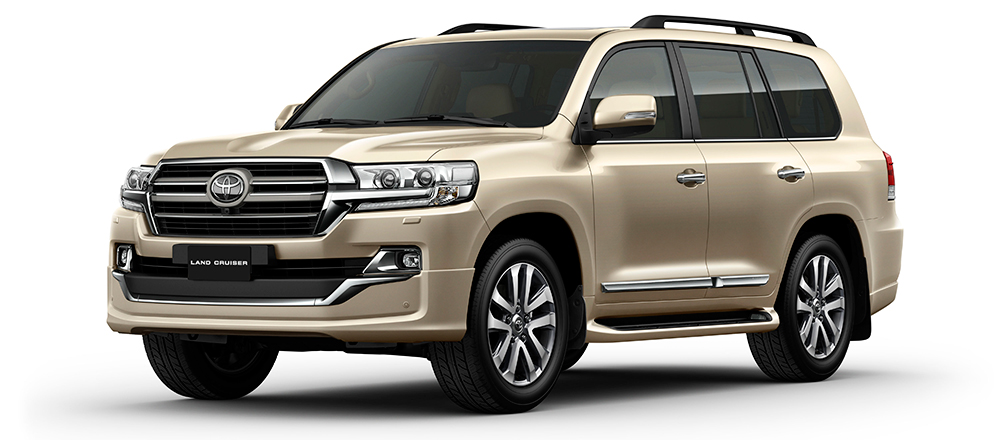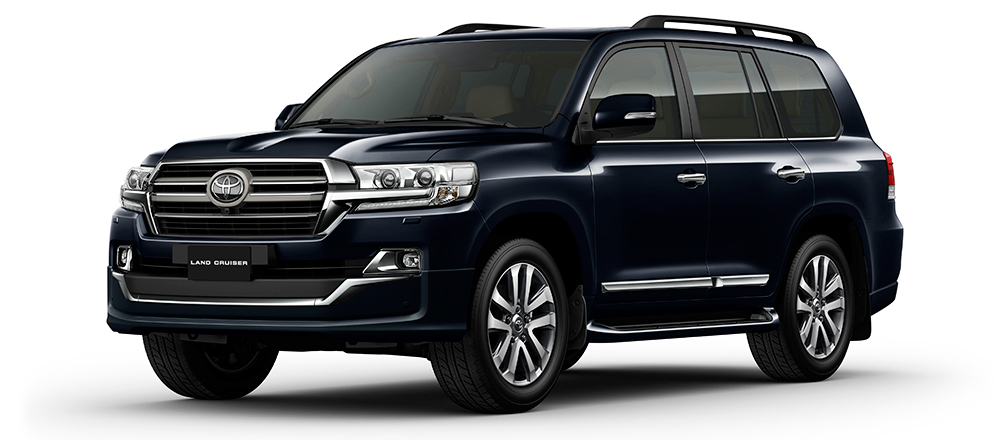 Land Cruiser Super White II (040)
Land Cruiser White Pearl CS (070)
Land Cruiser Silver ME (1F7)
Land Cruiser Gray ME (1G3)
Land Cruiser Attitude Black MC (218)
Land Cruiser Sparkling Black Pearl CS (220)
Land Cruiser Dk. Red M.M (3Q3)
Land Cruiser Beige M.M (4R3)
Land Cruiser Dark Blue MC (8P8)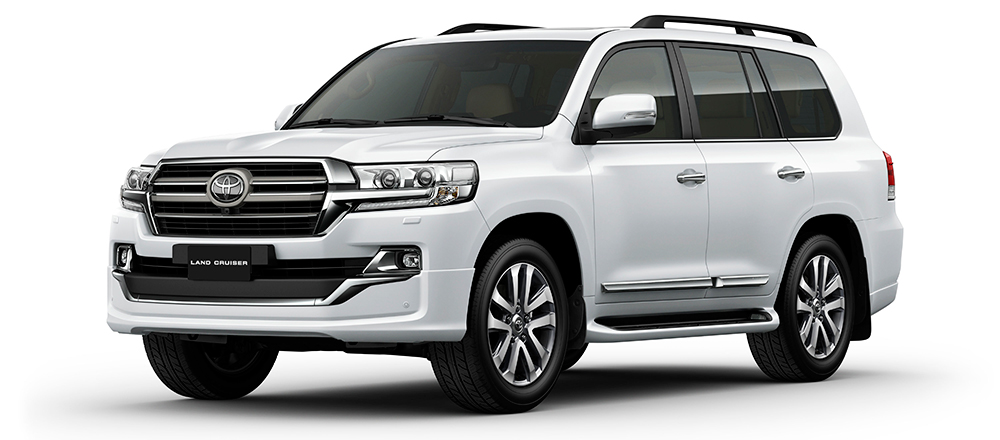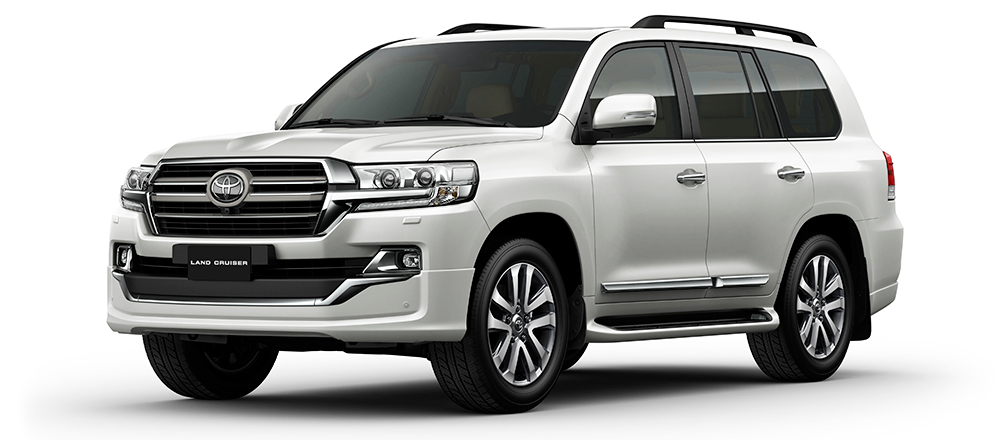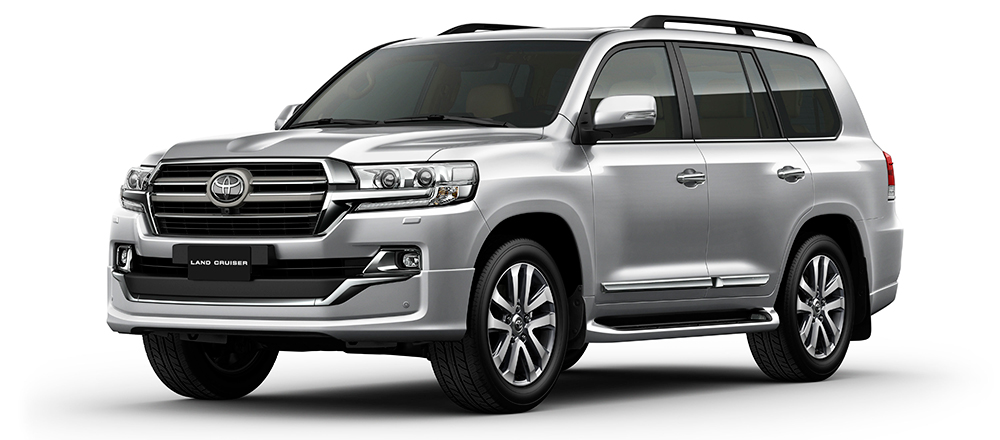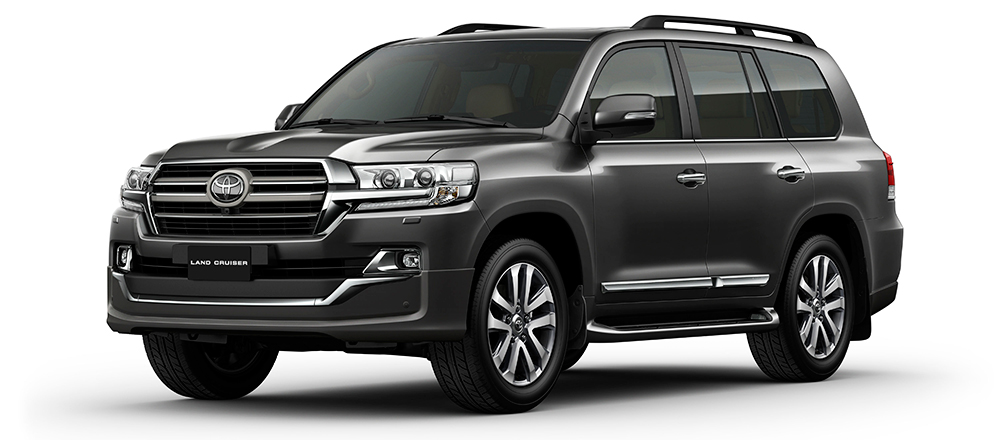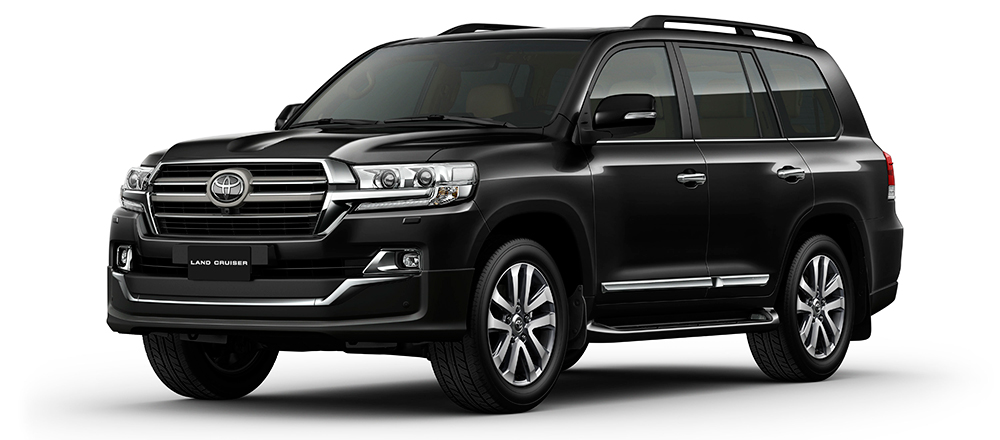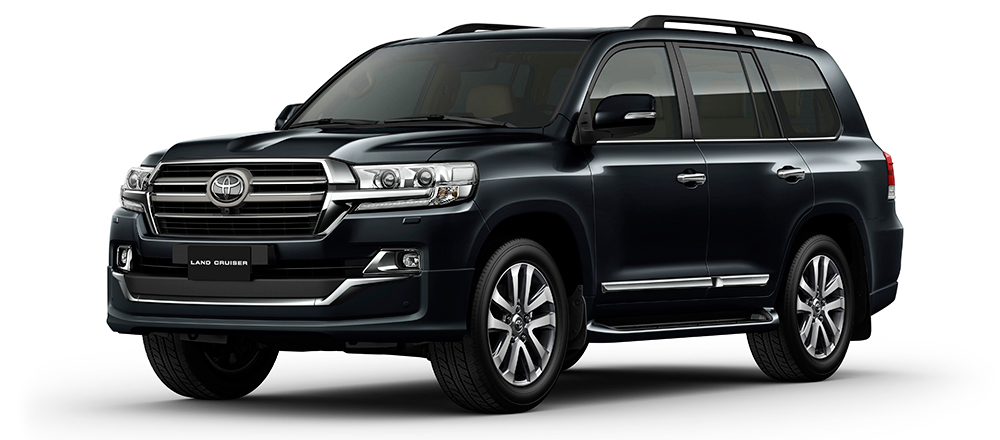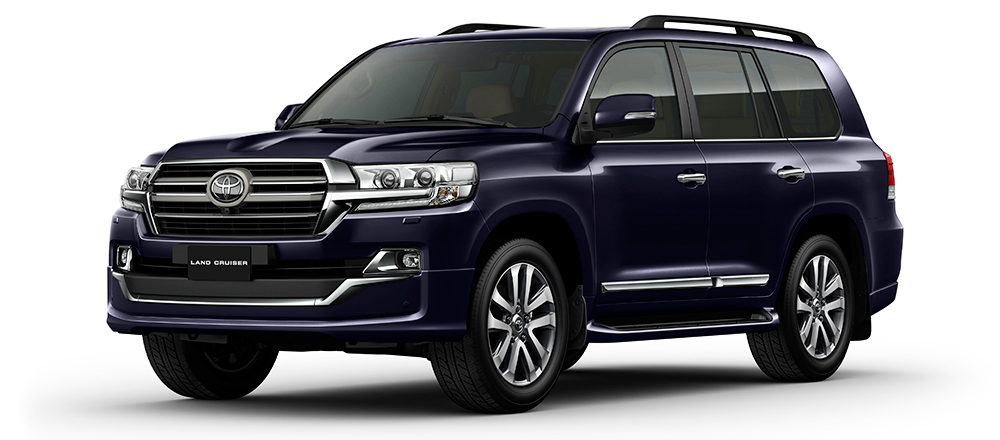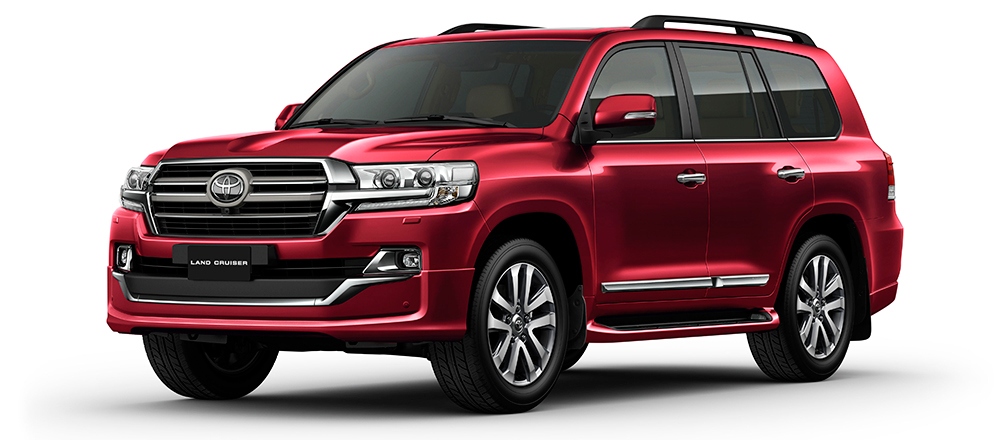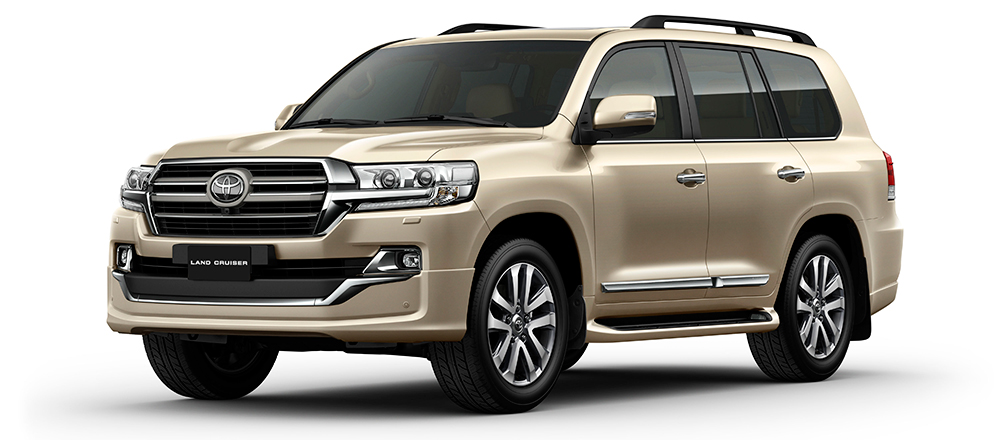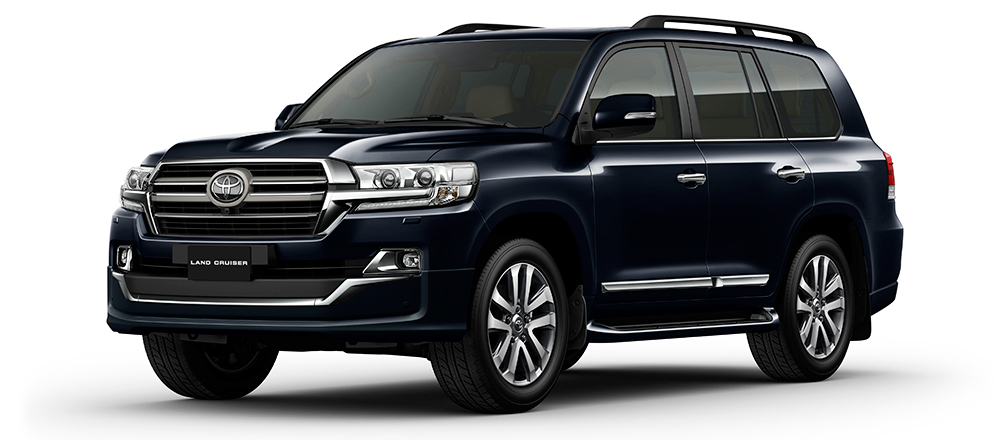 Front Spoiler & Grille (Exclusive VX-R)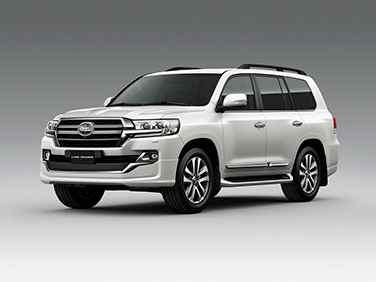 The front bumper spoiler and thick radiator grille are exclusively designed for the VX-R grade to create a powerful yet finely-crafted front face of the "King of 4WD."
Full Cover Side Steps with Illumination (Exclusive VX-R)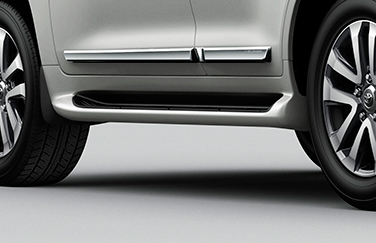 Plastic full cover side steps with illumination for the VX-R grade ease entry and exit of the vehicle. The side steps are integrated with the body, adding a sense of stability.
20-inch Aluminum Wheels
(Exclusive VX-R)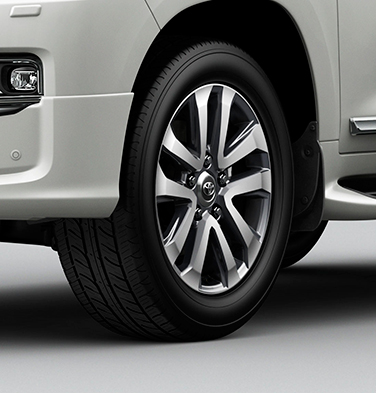 Exclusive to the VX-R grade, the 20-inch aluminum wheels and 285/50R20 tires present a powerful, fine-quality look, which only befits the undercarriage of a vehicle such as the Land Cruiser.
Rear Bumper Spoiler (Exclusive VX-R)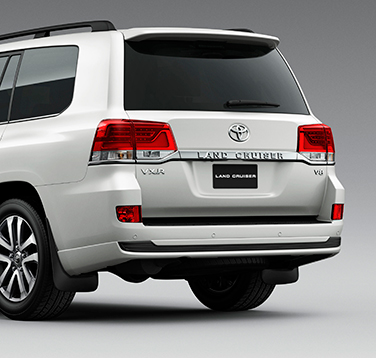 Designed specifically for the VX-R grade, the rear bumper spoiler adds a touch of sportiness and stability to the look of the rear end.
Electrically Powered Back Door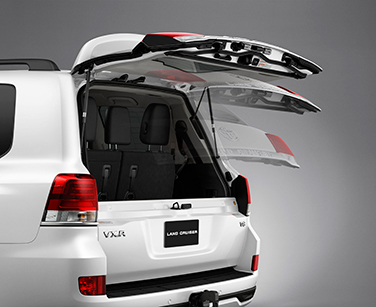 The jam-proof back door opens and closes by remote control and can also be closed by a switch on the lower end of the back door, contributing to both convenience and safety.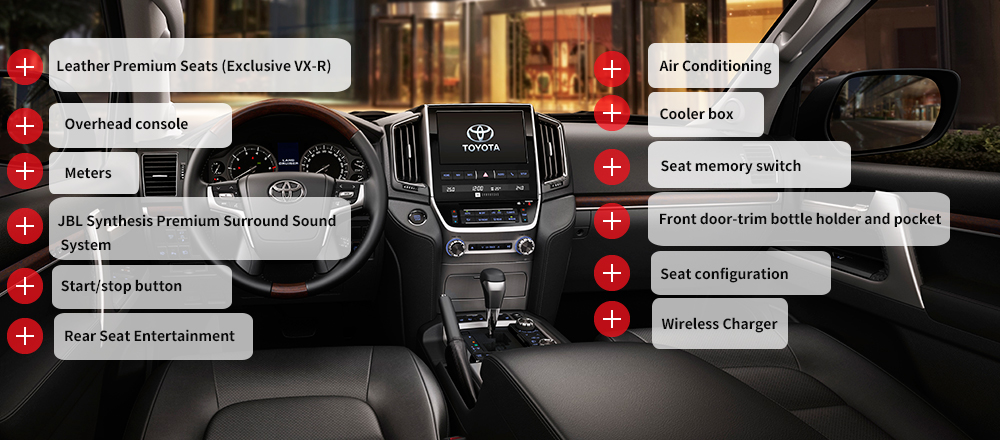 Leather Premium Seats
(Exclusive VX-R)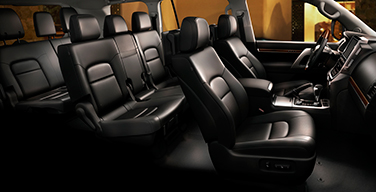 Leather Premium Seats designed exclusively for the VX-R grade are adopted.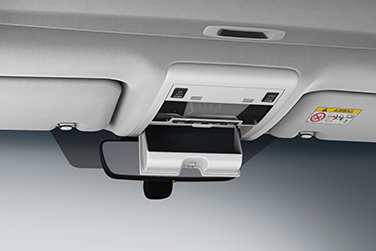 Overhead console gives easy access to interior lights and small-item storage.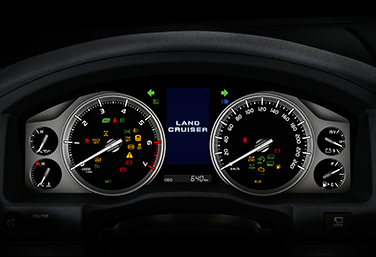 Large, newly designed Optitron meters' ideal positioning enhances visibility.
JBL Synthesis Premium Surround Sound System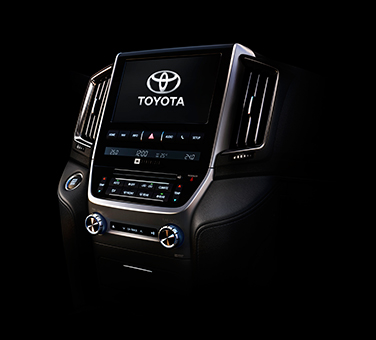 In addition to a DVD player, the JBL system features Bluetooth-compatible phone capability and a USB input terminal. 14 speakers are optimally positioned throughout the cabin to create a quality sound space.
* JBL Synthesis is a trademark of Harman International Industries, Incorporated.
* Bluetooth is a trademark of Bluetooth SIG, Inc.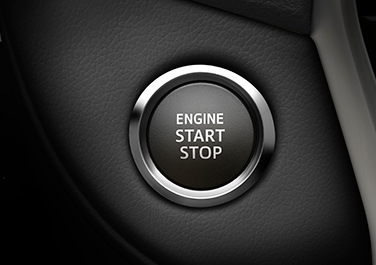 Start/stop button makes starting and stopping of the engine a breeze.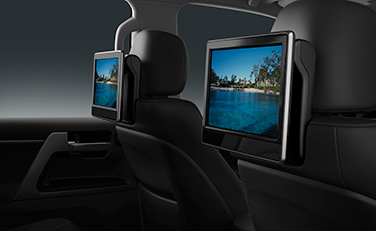 Rear seat passengers can enjoy video and audio from the built-in DVD player or their own portable media playback device via large 11.6-inch monitors mounted on the backs of the driver's and front passenger's seatbacks.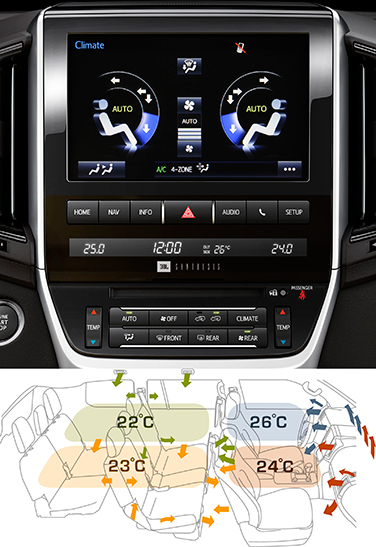 The world's most advanced air conditioning system features 4-zone front/rear right/left independent temperature control, while up to 28 outlets ensure a comfortable cabin environment for all occupants in all driving conditions.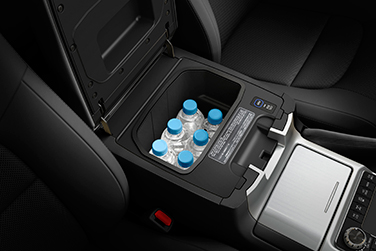 Efficient cooler box keeps your beverages refreshing, even on long trips.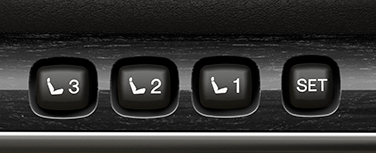 The seat memory function remembers the preferred seat position of three different drivers.
Front door-trim bottle holder and pocket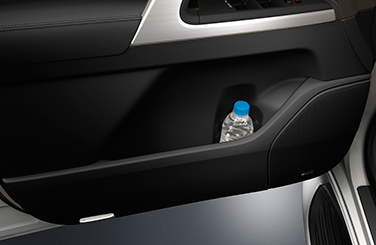 Door trims feature a bottle holder and a pocket for A4-size documents.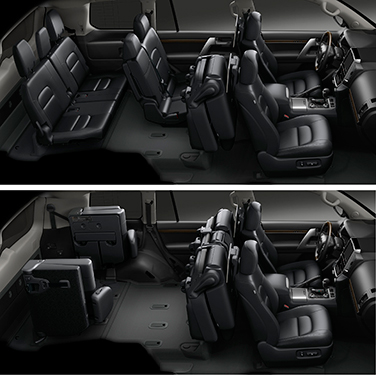 2nd-row seats tumble and 3rd-row seats fold laterally to maximize luggage space.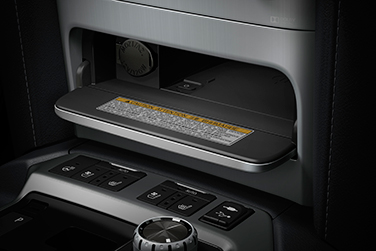 The wireless charger recharges your smartphone battery when you place it on the charger's power pad.

4-wheel AHC (Active Height Control) & AVS (Adaptive Variable Suspension) (Exclusive VX-R)

4-wheel AHC allows you to select vehicle height in three positions according to the situation. During high-speed driving and L4 drive (Low speed, 4-wheel drive), vehicle height is switched automatically in response to circumstances. Additionally, AVS adjusts the shock absorber stiffness according to vehicle speed and road conditions, helping to achieve the optimally comfortable ride.
VGRS (Variable Gear Ratio Steering)
(Exclusive VX-R)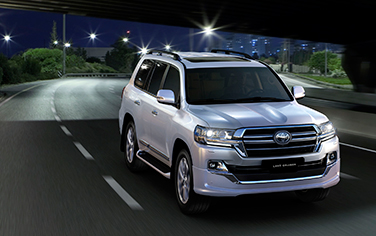 VGRS (Variable Gear Ratio Steering) is a system that changes the steering gear ratio according to vehicle speed, helping achieve excellent operability and driving stability from low-to-high speeds. At low speeds, the steering angle is reduced to enhance maneuverability. At medium speeds, it promotes lightness and ease of handling, and at high speeds, it helps to attain a smooth and stable vehicle response.
5-mode Driving Switch (Exclusive VX-R)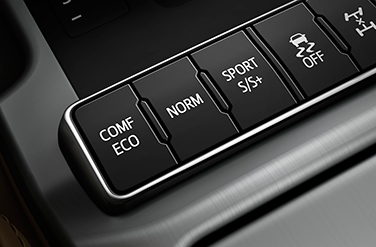 A 5-mode driving switch allowing selection of up to five driving modes is adopted. In each mode, the powertrain, chassis, air conditioning, etc., are optimally controlled so that the drive conforms to the driving situation and your mood.
4.5L V8 Diesel Engine 1VD-FTV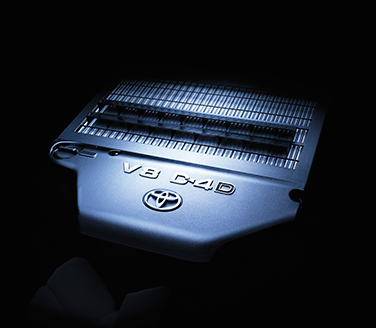 Toyota's first common-rail V8 also debuts a new twin-turbo system that delivers strong power while reducing fuel consumption as well as emissions.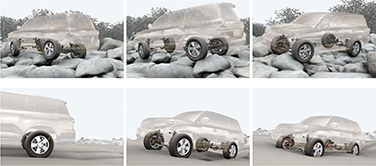 Crawl Control helps provide optimal throttle and brake control, maintaining a constant low speed to support safe, sure driving on sand, dirt, rock, snow, mud, steep grades, or other surfaces that require fine accelerator control. Five speeds are offered, with fully automatic throttle and brake control that helps you to concentrate on steering the vehicle.
Hill-start Assist Control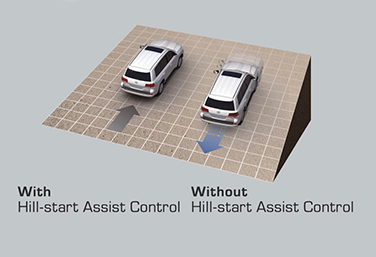 Hill-start Assist Control contributes to smooth hill starts by automatically applying brake pressure to help hold the vehicle whenever rollback is detected.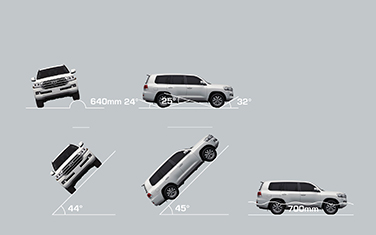 Land Cruiser 200's exceptional all-terrain capability realizes a smooth and comfortable driving experience.
Multi-terrain Select (5-mode)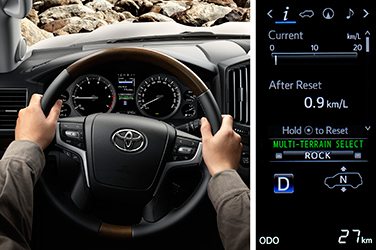 By choosing one of the five drive modes offered by a dial-type switch, this revolutionary system supports the optimum traction you need to handle slippery surfaces like mud/sand and loose rock, or non-slippery surfaces like moguls and rock. In addition, when Crawl Control is active, AUTO mode is automatically selected and Active Traction Control (A-TRAC) matched to the pre-set vehicle speed is activated to help drivers of all levels enjoy secure, sure-footed control when traveling over rough terrain.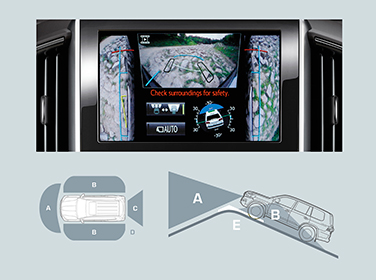 Four cameras mounted on the front, rear and sides of the vehicle enable the Multi-terrain Monitor to display external views of the front (forward view), rear (rear view), left side (left view) and right side (right view) as well as the front tires and under the vehicle (under vehicle terrain view)*1. The system supports the driver by enabling views where surrounding conditions make it difficult to see the terrain directly, such as when cresting a hill or driving on extremely uneven ground. The forward view rotates in response to the tilt of the vehicle*2, to help the driver intuitively grasp the angle of the vehicle. The screen also shows the current direction of travel. In addition, an inclinometer*2, which roughly measures the tilt angle of the vehicle both laterally and longitudinally, is also installed. When tire slippage is detected, the inclinometer switches to a slip indicator, and the slipping tire or tires are highlighted in yellow on the display. The Multi-terrain Monitor can also display a panoramic view*3 of the vehicle that appears as if looking down from directly above. This helps enhance convenience during parking and other maneuvers by giving the driver a bird's-eye-view of the entire vehicle.
*1: In L4 mode, an image captured approximately three meters ahead of the front camera is displayed, and lines indicating current vehicle location and tire locations are superimposed on the displayed image.
*2: Available only on models equipped with VSC in L4 mode.
*3: Available only in H4 mode.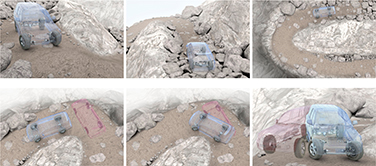 The Turn Assist function can be activated to provide greater steering ease when using Crawl Control. By helping to ensure steering response when traveling at a fixed speed, it supports drivers by helping them to smoothly execute turns that would otherwise require multiple steering adjustments.
Kinetic Dynamic Suspension System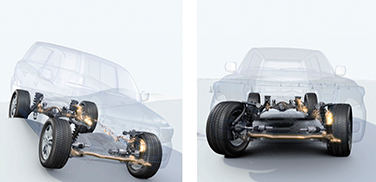 Off-road driving
KDSS helps keep all tires firmly in contact with the ground even when traveling over rocks and other demanding surfaces, helping you enjoy a safe, stable ride with excellent traction for superior rough-terrain drivability and control.
On-road driving
KDSS helps suppress body roll, supporting superior steering stability and a steady ride when cornering. This realizes a sufficiently comfortable ride.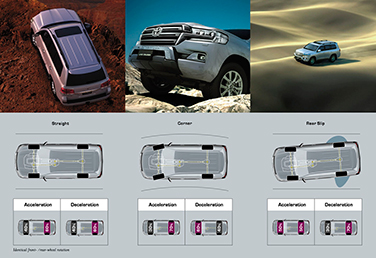 TORSEN® LSD* in the center differential instantly optimizes front/rear torque distribution, regardless of straights, corners or slippery surfaces, effectively maintaining vehicle stability in a wide variety of driving conditions.
*TORSEN® LSD is a registered trademark of JTEKT Corporation.

Vehicle Stability Control (VSC)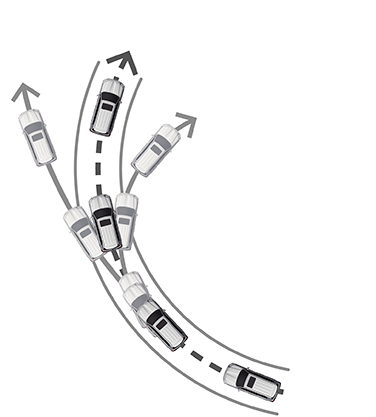 Vehicle Stability Control detects lateral skidding during cornering, automatically controlling engine output as well as the braking force on each tire, helping the driver to maintain control.
The system may not operate properly depending on the weather, road, and vehicle conditions or other factors.
Be sure to read the Owner's Manual carefully.
Multi-terrain ABS with EBD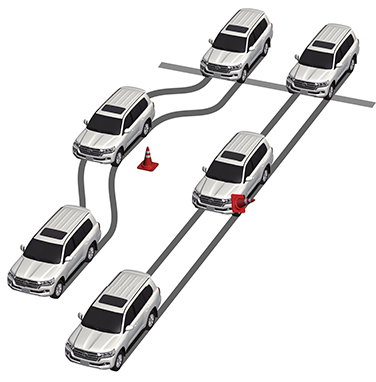 Multi-terrain ABS uses new control logic that instantly detects off-road driving conditions such as sand and dirt, automatically switching to the optimum ABS for the surface conditions. With normal ABS activated in on-road driving, EBD ensures balanced braking regardless of occupant/passenger load.
The system may not operate properly depending on the weather, road, and vehicle conditions or other factors.
Be sure to read the Owner's Manual carefully.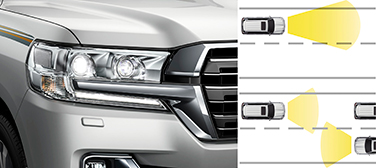 LED headlamps help ensure excellent nighttime visibility.
Automatic High Beam
Automatic High Beam detects the lights of vehicles ahead, whether they are traveling in the same or opposite lane, and automatically adjusts the headlamps to low or high beams to help ensure forward visibility during nighttime driving.
The system may not operate properly depending on the weather, road, and vehicle conditions or other factors.
Be sure to read the Owner's Manual carefully.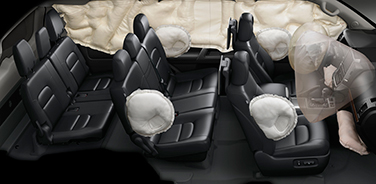 Best-in-class collision protection for cabin occupants comprises Supplemental Restraint System dual-stage driver airbag/front passenger airbag, along with available knee airbags for the driver and front-seat passenger, and SRS side and curtain-shield airbags for 1st- and 2nd-row outer-seat occupants.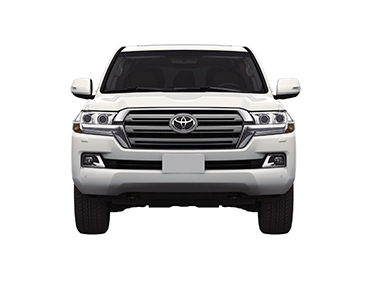 An impact-absorbing front hood/fender/cowl structure helps reduce impact on pedestrians.