GL Grade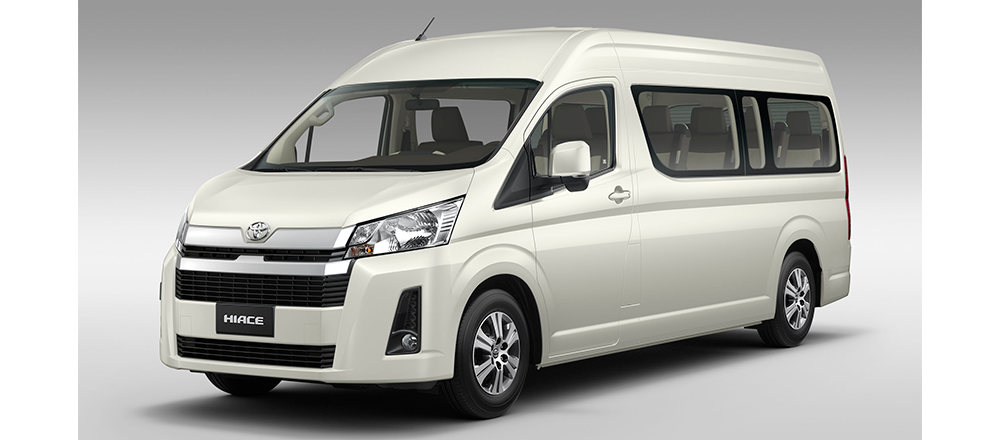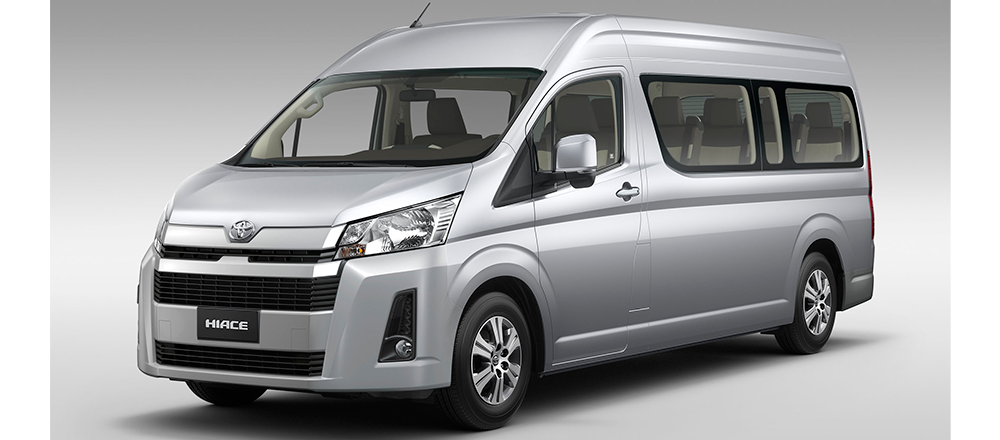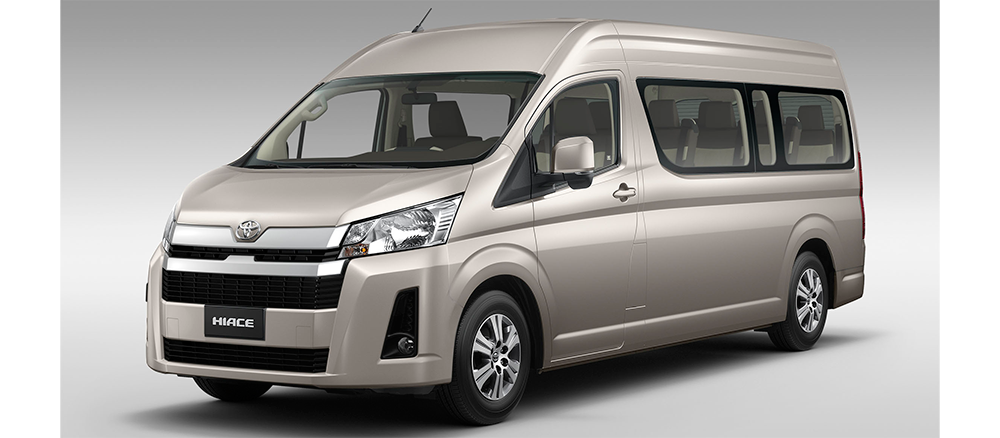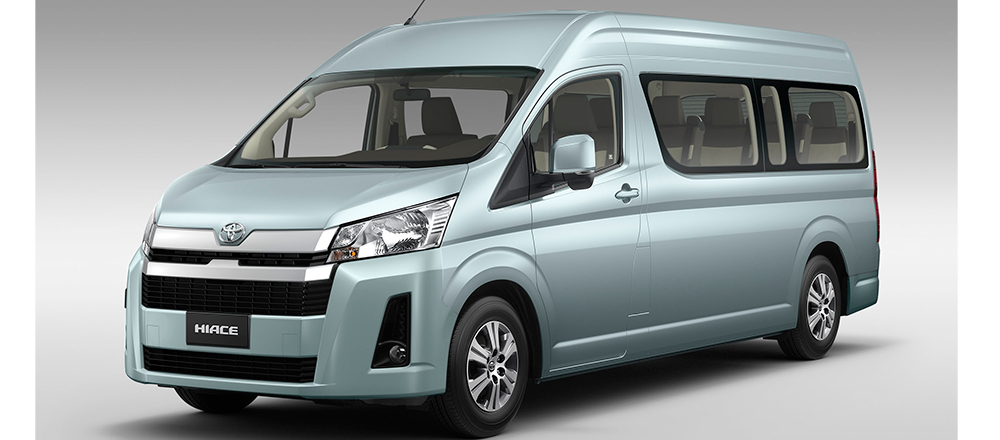 Hiace Gl Silver Mica Metallic (1E7)
Hiace GL Beige Metallic (4R4)
Hiace GL Light Blue Metallic (8Q6)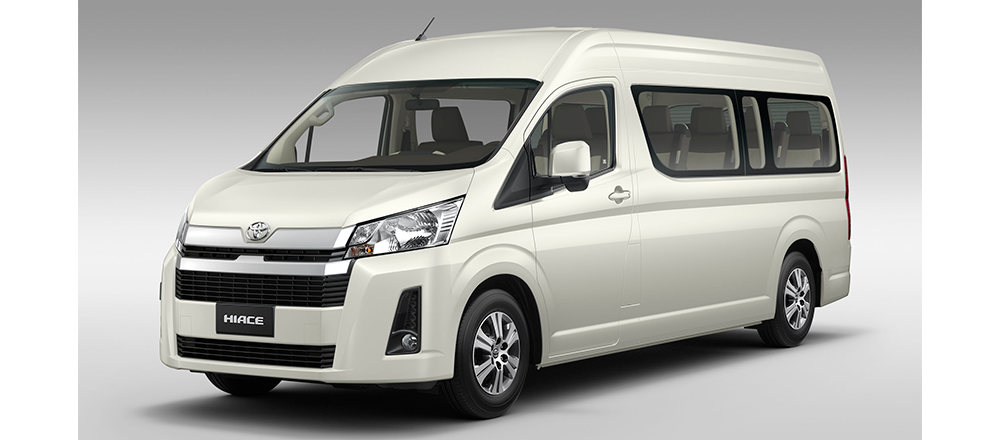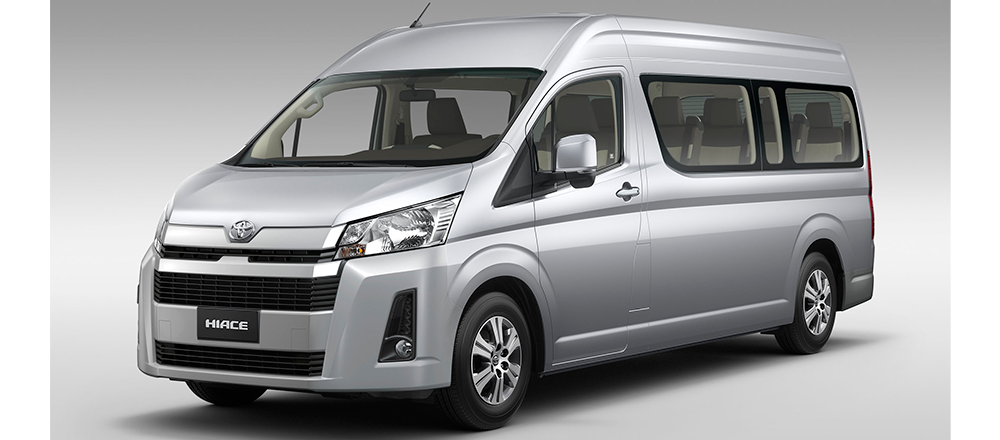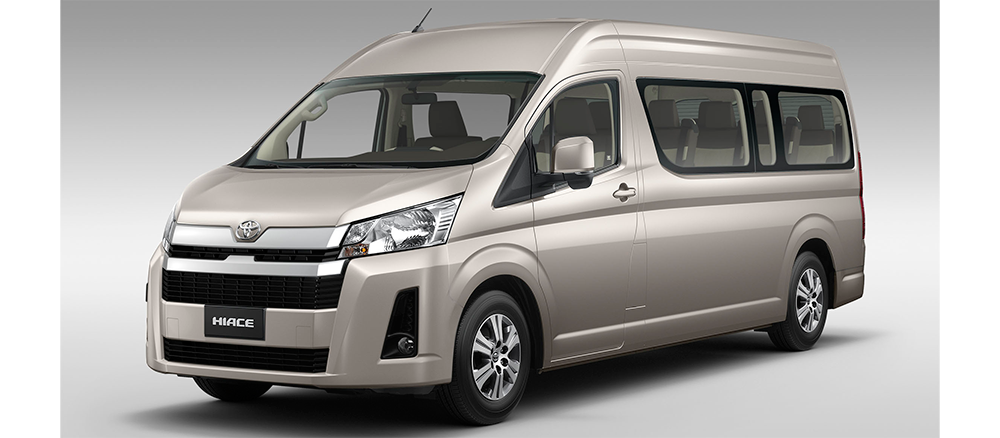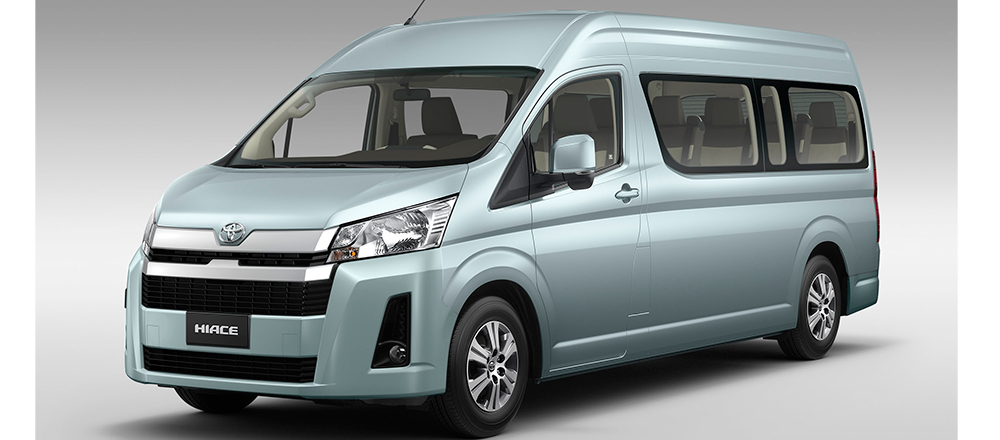 Standard Grade
Hiace Standard White (058)
Hiace Standard Silver Mica Metallic (1E7)
Hiace Standard Deep Red Mica Metallic (3R9)
Hiace Standard Light Yellow (599)
Hiace Standard Dark Blue Mica Metallic (8P4)
Hiace Standard Dark Gray Fabric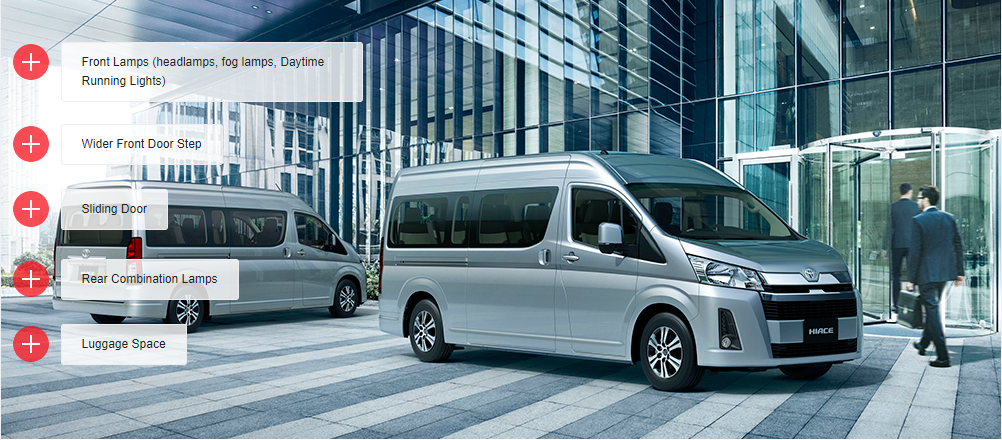 Front Lamps (headlamps, fog lamps, Daytime Running Lights)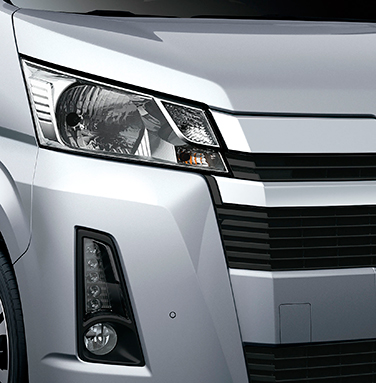 The semi-bonneted front design features horizontally linear headlamps, which create a simple yet dynamic impression. Furthermore, the vertical Daytime Running Lights together with the fog lamps emphasize Hiace's advanced looks.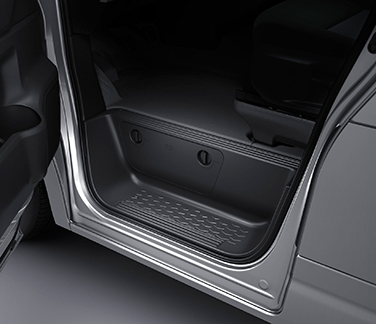 Front seat access is made easier by installing a wide front door step.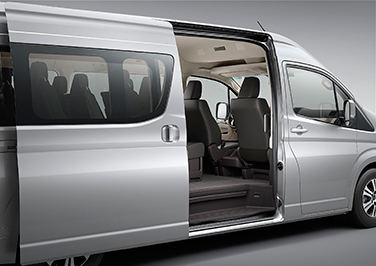 The width of the sliding door opening has been increased, making entry and exit even easier for occupants. The doors are equipped with an easy closer function.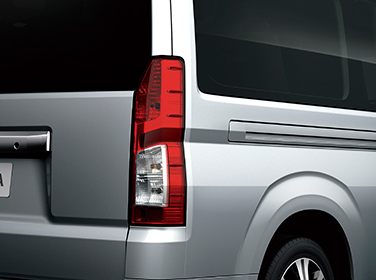 The rear combination lamps balance functionality with design at a high level. Five aero stabilizing fins are located to further enhance driving stability.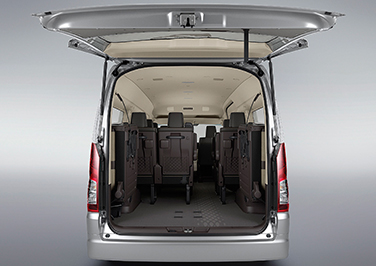 Fold-up seats in the rearmost row enable the luggage space to be increased as required.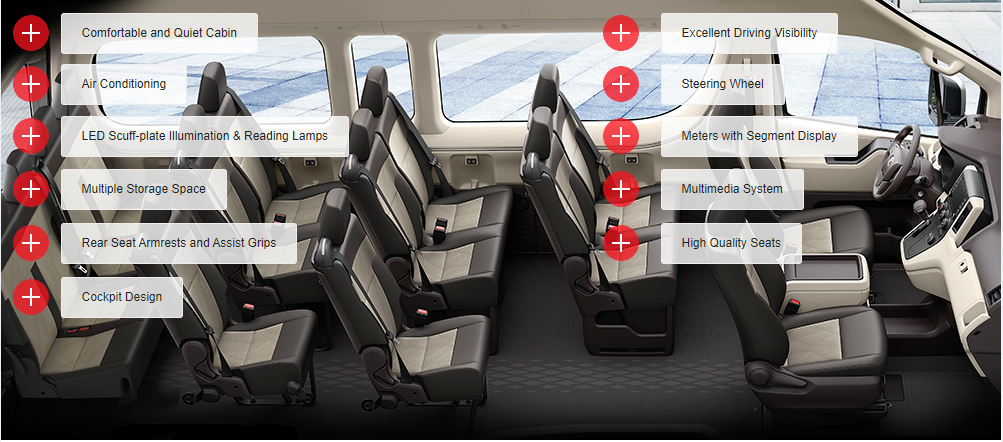 Comfortable and Quiet Cabin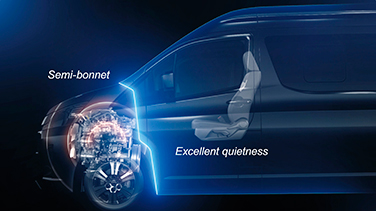 With the semi-bonneted front-end design, the engine, which until now has been located beneath the front seats, is shifted forward. This helps create a cabin space with enhanced quietness and comfort.

Cool and comfortable front and rear air conditioning performance is provided for excellent satisfaction.
LED Scuff-plate Illumination & Reading Lamps

An LED step lamp and scuff-plate illumination are available for the sliding door step, making getting on and off at night easier. Reading lamps are also available depending on the specification, providing sufficient light for comfortable reading in the dim light of the cabin during the daytime.
(A) Overhead tray for neat storage of items for immediate access.
(B) Overhead console for storage of small items.
(C) Convenient console tray for small items.
(D) The center console adopts a pop-up door with a curved top that can be used for storing small items.
(E) Door pockets with space for A4 size files.
(F) Rear lower trim bottle holders.
Rear Seat Armrests and Assist Grips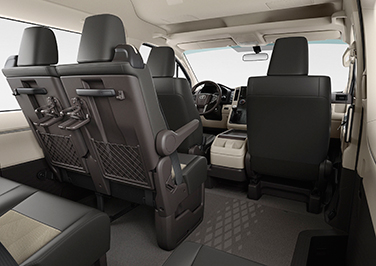 Flip-up rear seats armrests are available in consideration of cabin comfort and the ease of movement into the aisle. Assist grips are available on the seatback of the middle seats, enhancing peace of mind when the vehicle sways while traveling.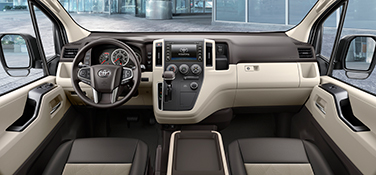 The cockpit, which has an excellent field of view is easy to use and gives the driver a feeling of confidence for sure and comfortable operations across a whole range of work scenarios.
Excellent Driving Visibility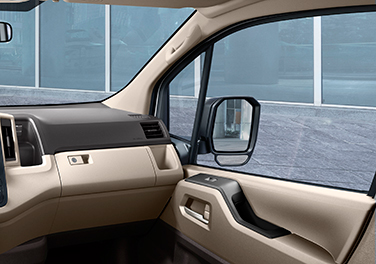 The anterior of the front side window has been lowered and a large quarter glass installed to help ensure excellent forward visibility. An auxiliary mirror has been added, enabling checking in the downward field of view.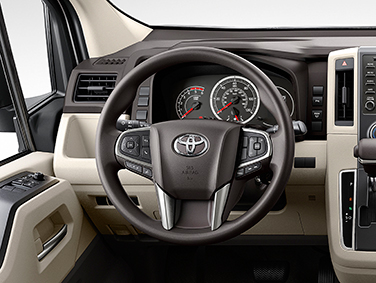 The steering wheel has features that enhance the operability with audio and cruise control switches.
Meters with Segment Display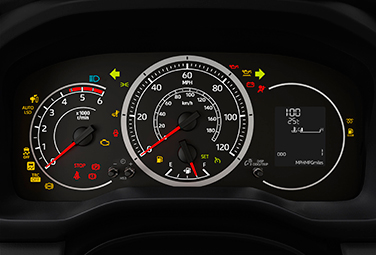 A 3-meter layout incorporates a segment display with an accentuated speedometer, which features a combination of zoned main markings and fine intermediate markings, expressing its functional beauty.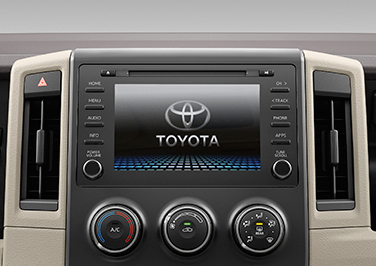 The updated Multimedia System with AM/FM features a 7-inch display that enables intuitive screen operation by using your finger. The system comes with 6 speakers and can play both CDs and DVDs. USB/AUX ports are also available.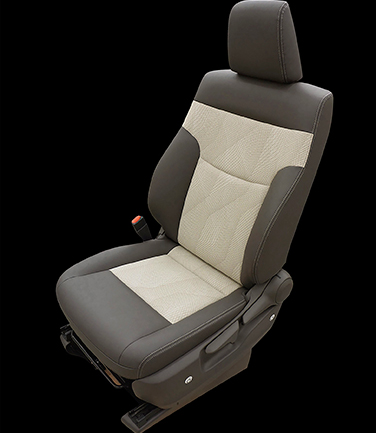 The well-appointed seats combine synthetic leather with fabric, and stitching is also applied to highlight the excellent craftsmanship of the interior space.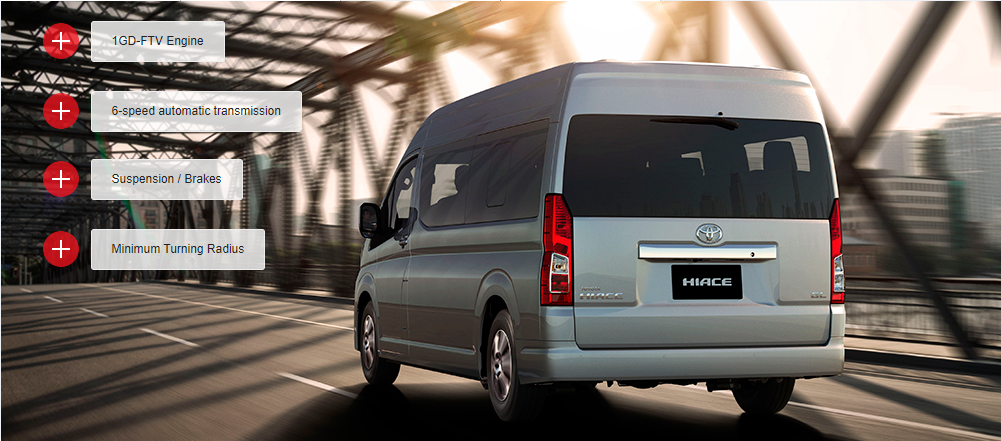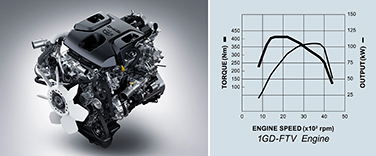 The 1GD-FTV engine adopts a turbocharger with intercooler, which helps produce powerful dynamic performance while enhancing fuel economy and quietness.
Output: 115kW / 3600rpm
Torque: 420Nm / 1600-2200rpm
6-speed automatic transmission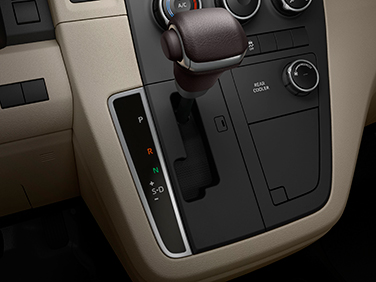 A 6-speed automatic transmission is available, helping achieve excellent dynamic performance and fuel economy. The transmission also contributes to superior drivability. A 6-speed manual transmission is also available.

MacPherson strut suspension is adopted for the front and a leaf spring suspension for the rear, helping assure ample suspension stroke. The suspension helps achieve excellent straight-line stability as well as a quiet and comfortable ride. The adoption of disc brakes for the front and rear yields excellent braking force.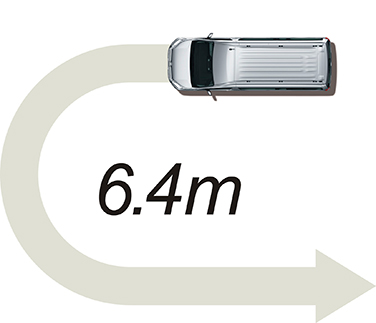 The minimum turning radius of the HIACE lets you easily maneuver in tight worksites.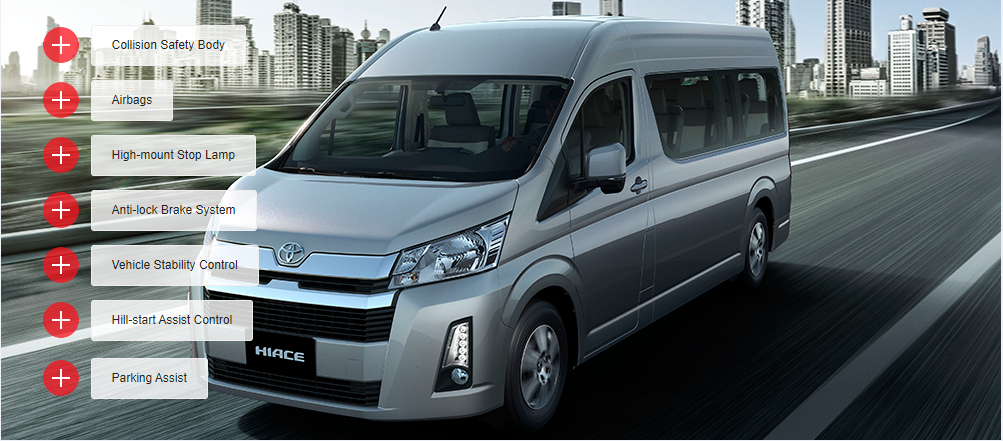 A semi-bonneted configuration is used for the front, to efficiently absorb impact energy in the event of a collision. This contributes to excellent crash safety.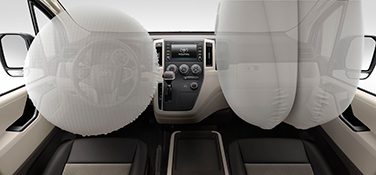 Driver and front passenger seat are equipped with Supplemental Restraint System (SRS) airbags.
All seats have 3 points with emergency locking retractor seatbelts.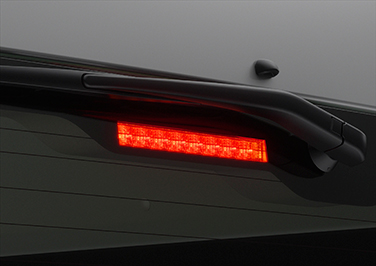 An LED-type high-mount stop lamp helps alert drivers to the rear when slowing or stopping.

ABS helps prevent wheel lock-up during braking.
Vehicle Stability Control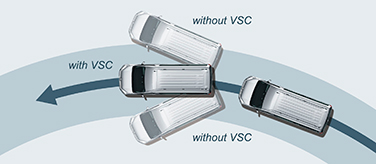 When sensors detect conditions likely to cause skidding, it helps prevent front or rear wheel slip by optimally controlling engine power and braking force.
Hill-start Assist Control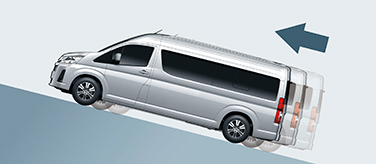 Hill-start Assist Control (HAC) helps to prevent the vehicle from rolling backward, for example when starting on a steep incline.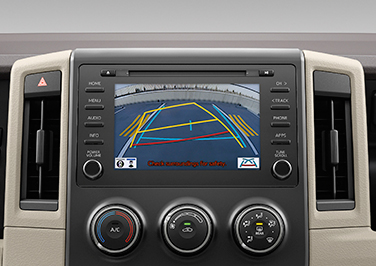 Supports smooth reversing operations when perpendicular or parallel parking, showing the rear view taken by a camera integrated into the rear of the vehicle on the display together with guidelines to help the driver steer.